Miami Heat's Duncan Robinson Talks Growth of Chemistry with Bam Adebayo
Published 12/21/2020, 8:01 AM EST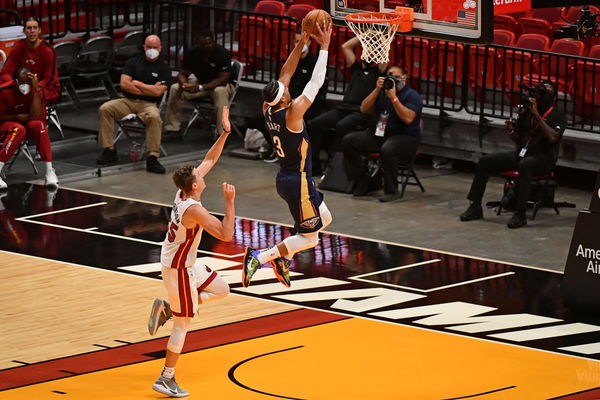 ---
---
Duncan Robinson is coming off an excellent season this year. In his first full season with the Miami Heat, Robinson showed that he is a lethal shooter, perhaps one of the best in the league. He was a crucial part of the Miami Heat's 2020 playoff run when they went to the NBA finals.
ADVERTISEMENT
Article continues below this ad
One of the most impressive aspects of Robinson's play was his connection with Heat's superstar Bam Adebayo. Adebayo and Robinson were able to link up very well throughout many parts of the season. The two played off each other very well and helped the Heat overcome the Eastern Conference en route to the NBA Finals.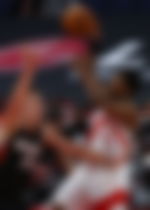 Duncan Robinson spoke to the press ahead of the new NBA season. Robinson said that he and Adebayo could build chemistry well during the regular season and then picked it back up when they entered the bubble.
ADVERTISEMENT
Article continues below this ad
"In terms of the edges, I would probably say just continue to build that rapport. By the end of last year, before the bubble, we just really had a chemistry. We picked up. It takes a while. By the time we got into the playoffs, we had it back." 
Duncan Robinson talks about his connection with Bam Adebayo
Robinson noted that he was happy to link up with Adebayo and the Heat team once again. Their practice is crucial in order to build that connection again. "It is the same thing now. We went through this stretch where we were just having individual workouts. It is really nice to be back out there playing with him and playing with the other guys, just trying to build that connection."
ADVERTISEMENT
Article continues below this ad
When asked about potential challenges, Robinson believes that the team must be careful. Many opposing teams will try to disrupt the Heat's play, and they must adjust to that. "In terms of wrinkles, it is just really all adjustments.
"You don't know how any given team is going to play you, what they're going to try and do to take certain things that you like to do away, and when they do that, it falls on us to react, get creative and make adjustments to their schemes." 
Robinson concluded by asking people to keep an eye on them, as they will try to repeat their success from last season. "Stay tuned, we have to see how teams play. Teams do different things on any given night, but we certainly have counters to their counters, and that's just how it goes. It is like playing chess a little bit."
ADVERTISEMENT
Article continues below this ad
The Heat will have a heavy task in order to reach the NBA Finals again. The Brooklyn Nets are now the favorites, with the return of superstar Kevin Durant after a year and a half.