Dwyane Wade Reveals How Making Money for Michael Jordan Forced Him to Consider Another Deal
Published 03/23/2021, 6:00 AM EDT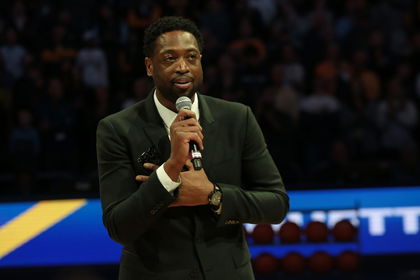 ---
---
An NBA player gets the contractual proof of his legacy the day a brand agrees to launch his signature line. The trend that began with Walt 'Clyde' Frazier saw real popularity when a young Michael Jordan signed one such deal with Nike. Many fortunate players since then have followed in his footsteps, and Dwyane Wade is one of them.
ADVERTISEMENT
Article continues below this ad
Wade entered the NBA in one of the greatest drafts of all time. He had a flying start to his career and brought the Miami Heat into championship conversations. This was enough for the brands to notice him and want him as their promoter. But that was when the star quickly learned ways of business and played his cards carefully.
Dwyane Wade, Michael Jordan, and his equation with Nike
ADVERTISEMENT
Article continues below this ad
Wade was a phenomenal success even before his entry into the league. For Marquette High School, he played 65 games in two years and averaged 19.7 points with close to 50% FG. So he was on the target list of many brands, but not Air Jordan. Interestingly, that was exactly where this young sensation wanted to be. In a recent interview, the three-time NBA Champion revealed, "Growing up as a Chicago kid, Michael Jordan was my favorite player. I always wanted to wear Jordans… In the NBA, they didn't think enough of me to give me a deal at the time… I signed a 7-year deal with Converse and then at some point in that deal, Converse was going a different route. I was like where I'm going, Jordan and Nike."
So that is how Wade finally got his shot at representing the Air Jordan brand. However, Wade was at his prime during those days, averaging consistently big numbers and winning championships. He could also see how other stars (like Kobe Bryant) were taking the path of launching their signature lines, and that thought stuck with him.
When the Miami Heat legend found the opportunity of a lifetime
In 2012, opportunity knocked on Dwyane Wade's doors, and he got his well-deserved chance at signing a legacy deal. As he said in his interview:
ADVERTISEMENT
Article continues below this ad
"As a businessman, I saw what Jordan was doing. I was like, instead of making money for MJ, let me go & make a little money for myself. So I started thinking differently and had an opportunity at 30 years old, I was already older, had won a championship, so I was established. Li Ning got me the opportunity to build my own brand, like what Jordan has done with Nike. I was like I can't pass upon this just for some cool retros. At this point, my Jordans ain't selling… So I decided to go off and build my own legacy."
He joined the Chinese brand as a 30-YO player who was still an integral part of the Miami Heat's Big Three. He signed a lifetime deal with the brand and launched his Way of Wade signature line with them. 
This deal ensured that the man who averaged 15 points even in his final year and who has 17+ million Instagram fans, got what he deserves.
ADVERTISEMENT
Article continues below this ad
Read also – Former Teammate Explains the Importance of Chris Bosh Amidst LeBron James & Dwyane Wade Era in Miami Heat