Miami Heat Guard Tyler Herro Reacts To Him & Duncan Robinson Being Called 'Splash Brothers 2.0'
Published 03/19/2021, 1:13 PM EDT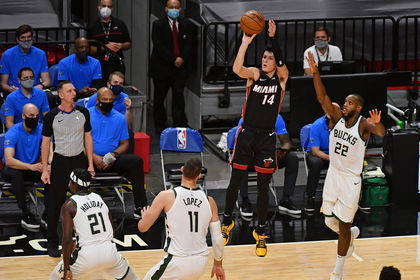 ---
---
Miami Heat are arguably one of the most talented young teams in the NBA. With players like Bam Adebayo, Tyler Herro, Kendrick Nunn, and Duncan Robinson, the Heat look set for the future.
ADVERTISEMENT
Article continues below this ad
The backcourt duo of Tyler Herro and Duncan Robinson has been absolutely amazing for the Heat. While Robinson has established himself as a prolific three point shooter, Herro, on the other hand, has become an all-round offensive threat.
Tyler Herro reacts to him & Duncan Robinson being called 'Splash Brothers 2.0'
ADVERTISEMENT
Article continues below this ad
Tyler Herro recently made an appearance in the Long Shot podcast with Duncan Robinson. There, the sophomore opened up about how he felt after Heat fans compared him and Duncan Robinson to Splash Brothers Steph Curry and Klay Thompson.
Herro said, "Yeah, for me, I would just say that I love seeing like shooters, especially like Dunc, you know, I've never really played with the shooter. I can say like, you know, he shoots better than me, you know, just as good as me or better.
"So it's like, I love seeing Duncan come off in screens. And just like you said, he can run them off, like, like the Splash Brothers did. And they- and they still are, but this is crazy. So I mean, I love playing with Duncan, and just getting him involved. And I love seeing him hitting threes."
The Herro and Robinson duo popped off last season and were integral to the team's run to the NBA finals last season. Miami will hope that this duo can continue to develop for them.
Can the Miami Heat have another go at the NBA finals this season?
After a slow start to the season, the Heat are finally back in form. They have won 8 games of their last 10 and now have a record of 21 wins and 19 losses. This run of form has seen them climb up to the fourth seed in the Western Conference.
ADVERTISEMENT
Article continues below this ad
But despite showing great form lately, the Heat do not have the necessary star power to challenge other teams like the Brooklyn Nets and the Philadelphia 76ers.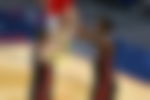 Given the number of young talented players they have, the Heat can pull off a trade to significantly increase their quality in the roster. They also have a number of veterans like Andre Iguodala with hefty contracts, so salary matching won't be an issue.
ADVERTISEMENT
Article continues below this ad
Should the Miami Heat be willing to pull the trigger to bring in a superstar or stick to their core of young players?