Miami Heat Guards Tell Story Of Jimmy Butler One-Upping Them By Practicing At 430 AM
Published 03/18/2021, 4:30 PM EDT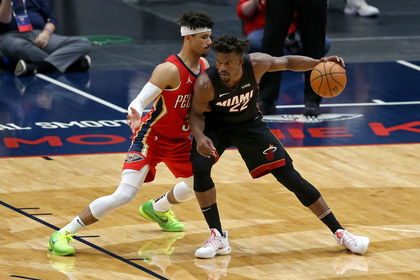 ---
---
Jimmy Butler is one of the hardest working players in the NBA. One doesn't go from being the last pick of the first round in the Draft to facing LeBron James in the NBA Finals. However, Butler is exactly the man to have done it. He dispelled all questions about his value as a 'winning player in the NBA last season, and he does that through sheer hard work.
ADVERTISEMENT
Article continues below this ad
Butler is notorious for having some intense workouts at a very early hour in the day. Butler's 4:30 AM practices have become the stuff of legend now, but we got some insight into what motivates him to practice like that from young Heat stars Tyler Herro and Duncan Robinson.
ADVERTISEMENT
Article continues below this ad
"Jimmy finds out, and he wants to be already done and full sweat by the time we get there." Herro added on to it by saying, "At 6 AM. He pulls up at 4:30, full sweat when we walk in the gym. He got us beat."
At the end of it, Robinson had to give it up to Jimmy and how his attitude has helped all of them fit into the organization. "He's always got to one-up everybody else. But I respect it. I mean, it's like that collective competitiveness that makes us a fit for the organization."
Jimmy Butler: A scarily intense work-ethic?
ADVERTISEMENT
Article continues below this ad
Jimmy Butler wants to win at all costs. However, he has never been in a situation that supported his winning capabilities. While Philadelphia had a great team, the parts never meshed together in 2018-19. Along with that, it took one of the greatest buzzer-beaters in NBA history to eliminate Butler and Philly that season.
Butler proved his worth last season, and it all happened when everyone was talking about how he is the perfect fit for Miami. 'Heat Culture' was notorious for working even the superstars to their bones. LeBron James, Shaquille O'Neal, and Dwyane Wade were made to put in the work as well. However, Butler goes above and beyond all of that.
ADVERTISEMENT
Article continues below this ad
It would be inspiring to see Butler work the way he works for any young star. The youngsters on the team are learning the right things from their leader and hopefully, they can have another great post-season run.