Magic Johnson's Lakers vs Michael Jordan's Bulls: Here's a Bold Take
Published 08/20/2021, 11:48 PM EDT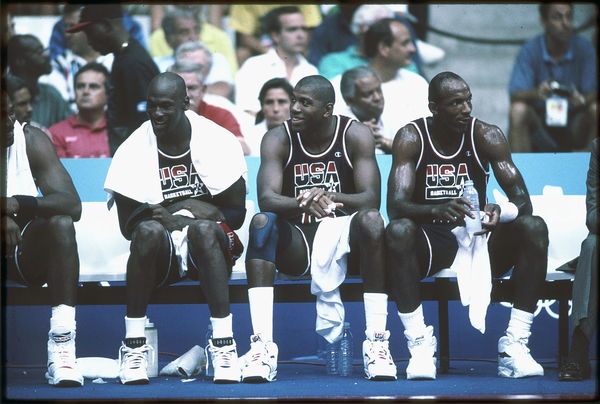 ---
---
The 1980s saw some of the most influential players the NBA has seen in its 75-year history. With the likes of Larry Bird and Magic Johnson battling it out at the prime of their careers and a young Michael Jordan making his name in the league, the 80s were the golden era of basketball.
Not only did the era have some of the best players, the decade saw some of the best teams the league has ever seen. Be it the Lakers featuring Magic and Kareem or the Celtics featuring Kevin McHale and Larry Bird, the 80s featured some of the most iconic teams ever.
Magic Johnson says his Lakers could easily beat Michael Jordan and the Bulls
While the Lakers, Celtics, and Pistons dominated the 80s, a new team emerged in the 90s, i.e. the Chicago Bulls. Led by Michael Jordan alongside Scottie Pippen, the Bulls were one of the most unstoppable teams the league has ever seen.
While Jordan did beat Magic in the Finals once when he captured his 1st title in 1991, a prime MJ-led Bulls never faced off against a loaded 80s Lakers team featuring Magic and Kareem. While many would predict it to be a close contest, Johnson was pretty sure of the outcome as he said that the Lakers would easily beat the Bulls.
"We have more weapons. I think that what happens sometimes is the Bulls rely on Michael too much. What I was saying is, if you get me in foul trouble and get Michael in foul trouble, take us both out, you'll see what would happen. Our team would dominate them. I mean, who's going to stop Kareem, and we had so many more weapons it's just we would beat them."
The Lakers' legend added, "No question that Michael would have scored 50 on us or 50 on anybody else because he's just a great basketball player, and but I think we would have held everybody else down."
While Jordan's Bulls had some big names in Dennis Rodman and Scottie Pippen, the 80s Lakers were a team not to mess with. Led by Magic at point and a dynamic backcourt partner with Byron Scott, the Purple and Gold had a fantastic backcourt.
Their frontcourt wasn't shabby either, with an aging but still effective Kareem Abdul Jabbar at center, former MVP Bob McAdoo as the power forward, and underrated scorer James Worthy.
This Lakers' team surely makes a case for being one of the best teams ever. And given how well they match up against the Bulls, it wouldn't have been a surprise if the 17-time champions emerged victorious. Who do you think would have prevailed? Let us know in the comments section down below.