Michael Jordan, Now a Billionaire, Ended His Bulls Career for Money, Claimed Dennis Rodman in 2019: "Mike Said I Want X Millions of Dollars"
Published 11/05/2022, 11:20 AM EDT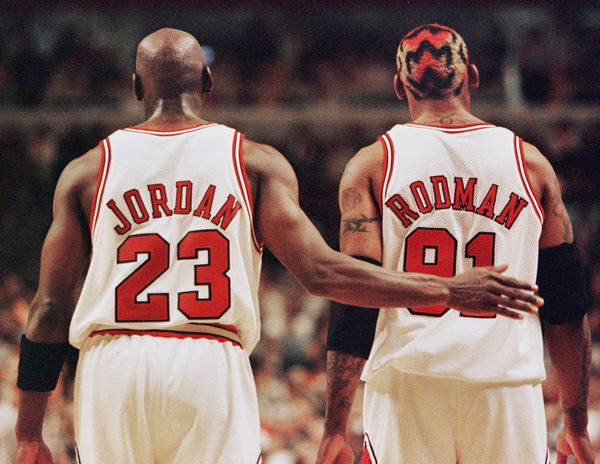 The Chicago Bulls were arguably the greatest dynasty in basketball history. They won six titles in a span of eight years. In spite of all this success, the dynasty came to an end in 1998 as Michael Jordan, Scottie Pippen, Dennis Rodman, and Phil Jackson left at the same time. The abrupt end to the Bulls dynasty is one of the sports the great unanswered questions. Why would anyone want to break up such a historic team after it achieved so much success?
For years, the Bulls' front office and ownership were blamed for this as they wanted to rebuild. However, Rodman once revealed that it was Jordan who is now a billionaire, who ended his career because the Bulls didn't meet his salary demands.
ADVERTISEMENT
Article continues below this ad
Once the Bulls started winning, there was no one who could beat them. They lost in 1993 as they did not have Jordan in the squad. And in 1994, Jordan came into the season midway and he was not at his best. But from 1995, there was no match for the Bulls as they won three straight titles.
Dennis Rodman says Michael Jordan was the reason the Bulls broke up
With the release of The Last Dance documentary, it had become clear to almost everyone that it was the front office that caused them to break up. Jerry Krause, who was the Bulls' GM at the time, came out and said in 1998, that it would be Phil Jackson's last season. He said regardless of what happened, Jackson would not be the head coach from next season.
ADVERTISEMENT
Article continues below this ad
It became evidently clear that if Jackson leaves, then Michael Jordan would leave as well. Krause stated that, even if the team went undefeated and went on to win the title, Jackson's contract will not be extended. This essentially meant it would be Jordan's last year with the Bulls.
However, Dennis Rodman revealed that there was also another reason. He said, "And the only reason we didn't repeat four in a row is because Mike said, 'I want X millions of dollars.' And they didn't want to pay him, so he left, I left, Scottie left and Phil Jackson left. We were all waiting on Michael. That's how the run ended."
ADVERTISEMENT
Article continues below this ad
WATCH THIS STORY: Did Dennis Rodman go to Russia to help Brittney Griner?
Interestingly, in his last two seasons for the Bulls, Jordan earned more than the full roster salaries of 13 teams in the NBA. The Bulls were one of the greatest teams ever. And it was sad to see their run ending in such a way. For a long time, the players and analysts have blamed the front office. But now, we know there was also another reason which was not highlighted.
Edited By: Bagavathi Eswaran