Michael Jordan Once Resorted To Disguise To Go To The Shopping Mall: "Everyone Sees A 7ft Guy, And They're Gonna Say Well, He Plays Basketball"
Published 01/12/2022, 11:57 PM EST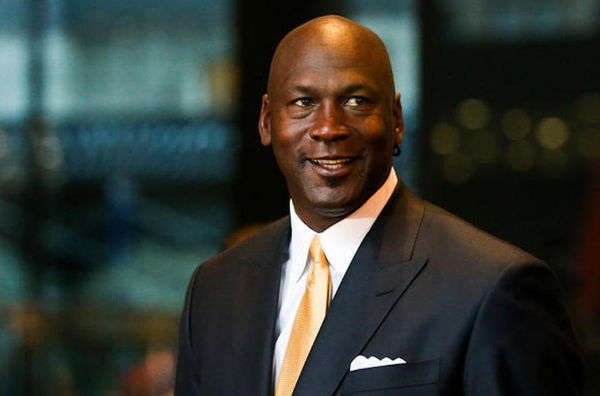 Michael Jordan is arguably the greatest basketball player of all time, and he is the icon who made the game global. Jordan was one most popular personalities in the world and the basketball world adored him. In 1988, Jordan won his first MVP title and the defensive player of the year award. Similarly, he won his second scoring title and his first All-Star Game MVP.
Being such a famous player, Jordan could not go around without getting mobbed by fans. To combat that, he once decided that he would go to a mall wearing a disguise. His plan lasted for an hour and fifteen minutes as people started recognizing him and chanting his name. Jordan narrates the incident. "That year I had shades, I turned my hat backward and how I wore shorts and pants and stuff just looked kind of awkward."
ADVERTISEMENT
Article continues below this ad
"A couple of my teammates were with me. But what gave it away was I was walking with Brad Sellers and everybody sees a seven-foot guy and they are gonna say: Well, he plays basketball. And then they kind of started at me and that gave it away."

Michael Jordan and his meteoric rise
ADVERTISEMENT
Article continues below this ad
Jordan went on to win four more MVP trophies after his first win in 1988. However, he had to wait for his first championship till 1991. He completed his first of two three-peats before abruptly retiring in 1993. Jordan returned to basketball in 1995 and he completed his second three-peat, winning again from 1996 to 1998. Similarly, he won 10 scoring titles during this stretch.
He was also named in ten All-NBA First Teams and nine All-Defensive First Teams. Jordan was an integral part of popularizing the NBA in the 1980s and 1990s. He was part of the 1992 Dream Team and he won two Olympic gold medals.
ADVERTISEMENT
Article continues below this ad
Michael Jordan was known for being a clutch player. He made several game-winning shots throughout his career. In 1984, Nike created a signature shoe for him called Air Jordan. They remain popular to this day. His several endorsements have made him the richest athlete in the world. In 2014, he was the first billionaire in NBA History. Today, he is the owner and the head of the basketball operations for the Charlotte Hornets.
WATCH THIS STORY : Top NBA Players who donned Kobe sneakers