Michael Jordan Refused to Call Former Bulls Teammate By His Name Because of Not Being "Good Enough"
Published 05/11/2022, 9:00 PM EDT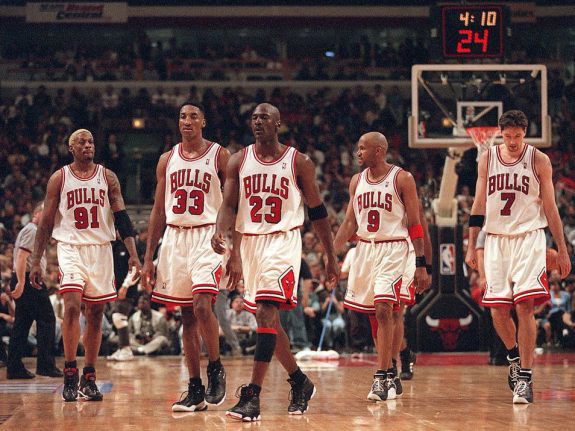 Everyone who knows anything about basketball knows that Michael Jordan was arrogant in his playing and still is in his retirement. Arrogant is often used in a negative perspective but not in the case of Jordan. In fact, MJ showed how one must find the arrogance inside and use it to fuel the desire to achieve greatness. That is exactly what he did to become one of the absolute greatest of all time.
MJ had good relations with many people in and around the NBA. Nobody would say bad things about MJ unless one had a beef with him from the playing days. That is because no matter how much trash talk MJ did, he always backed it with a performance. This made each and every opponent respect him and every teammate admire him. Although MJ was not always respectful towards other players.
ADVERTISEMENT
Article continues below this ad
The competitive spirit in him always made him wanting to be better than everybody. He respected players who could hold their own on the court against him, however, that wasn't always the case. 
There are many stories of MJ humbling down different teammates and opponents. However, this one might be the worst one and yet probably one of the best.
Will Perdue shares how he eventually earned the respect of Michael Jordan
On The Rex Chapman Show, Will Perdue, or Will Vanderbilt as MJ called him in his rookie years, shared the story of how the pressure of Michael Jordan not thinking of him as good enough, made him work harder.
ADVERTISEMENT
Article continues below this ad
"He made a comment. He [MJ] says I can't refer to him as Will Perdue because he's not good enough to play in the big ten. So I'm just going to call him Will Vanderbilt. I just kind of shook it off. But because I didn't play a lot, that hurt. I mean because you know I always told people I just didn't come in and have to impress the coaches. This was a different level of respect. I had to impress the coaches, but I also had to impress Michael Jordan."
"Because you know if you want to step on the floor, that guy's got to have the necessary respect for you to be out there and play with him. So you know I just kept plugging away, spent a lot of time in the weight room, came early, left late."
ADVERTISEMENT
Article continues below this ad
WATCH THIS STORY: MJ once schooled an arrogant rookie.
Will Perdue said about the experience of impressing Michael Jordan. He explained how demanding MJ was, while he also told how that pushed him to work hard. He remained an essential part of the team winning 4 NBA championships with the Chicago Bulls.