Michael Jordan Rejecting Kim Jong Un Resulted in Dennis Rodman Enjoying a Wild Night with "Vodka and Hotties" in 2013
Published 11/16/2022, 3:10 PM EST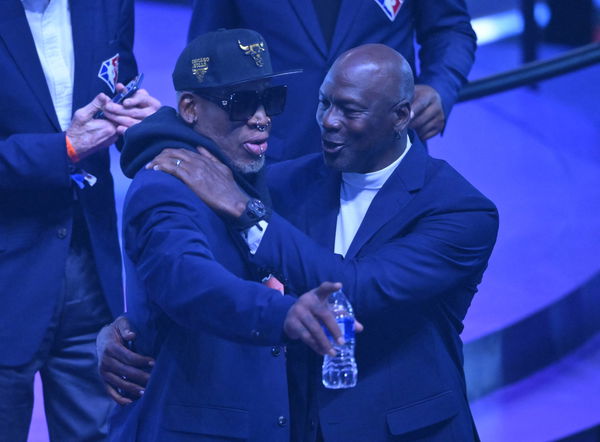 Former NBA champion Dennis Rodman has had some of the craziest moments on the basketball court. Playing with legends like Michael Jordan, he quickly became one of the best rebounders and defenders in the league. His off-court antics made him even more popular.
Fans all around the world were well aware of Rodman's partying habits. Interestingly enough, he has partied with the North Korean leader Kim Jong-Un. Back in 2013, he made a trip to Pyongyang where he met the infamous North Korean leader.
ADVERTISEMENT
Article continues below this ad
While talking to Rodman, Kim Jong-un revealed that he had approached another NBA legend for the opportunity to visit his country. And his name is Michael Jeffrey Jordan.
How did Michael Jordan help in Dennis Rodman meeting Kim Jong-Un?
Dennis Rodman's trip to North Korea in 2013 sent headlines all around the world. He landed in Pyongyang, the country's capital, along with the Harlem Globetrotters and other dignitaries. Rodman once talked about his experience on Mike Tyson's podcast. 
Interestingly enough, Kim Jong-Un, the controversial leader of North Korea, revealed a fascinating fact. It is an open secret that Kim Jong-un was a big fan of Michael Jordan and the Bulls. In fact, he had approached Chicago Bulls legend Michael Jordan before asking Rodman for a visit. However, as it turns out, His Airness had declined the Supreme leader's offer.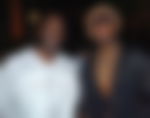 Rodman ended up partying with Kim Jong-Un during his trip. According to the Bulls legend, the two partied in a karaoke bar which included 'hotties and vodka.' "Let's have dinner tonight. A little karaoke and have some vodka, some hotties and stuff like that," Kim Jong-un had initially offered Rodman.
"Next thing I know, we are having dinner and we are drunk as sh-t, he starts singing karaoke and I have no clue what the f–k he's talking about", Rodman added later on.
Therefore, Rodman ended up partying with Kim Jong-un because of Michael Jordan declining the initial offer.
Rodman joined Jordan on the Bulls in one of the greatest trades ever
The Chicago Bulls led by Michael Jordan and Scottie Pippen were one of the best teams in the league. With the addition of Dennis Rodman, they established themselves as one of the greatest teams ever.
ADVERTISEMENT
Article continues below this ad
Rodman played for the San Antonio Spurs after a successful career with the Detroit Pistons. The Bulls brought in Rodman by trading Will Perdue to the Spurs, with no players, or even draft picks in the deal.
Dennis Rodman ended up having an incredible career with the Bulls. In 3 seasons, he averaged 5.2 points, 2.8 assists, and 15.3 rebounds while winning three NBA titles.
ADVERTISEMENT
Article continues below this ad
WATCH THIS STORY: Chris Evans, Shakira and Other Superstars Whom 7 Ft Giant Shaquille O'Neal Has Made to Look Tiny Over the Years
What is your favorite memory of Michael Jordan and Dennis Rodman? Let us know in the comments down below.
Edited By: Satagni Sikder