Michael Jordan Rookie Year Shoes Could Sell For $110000 On Auction Market
Published 04/30/2021, 5:30 AM EDT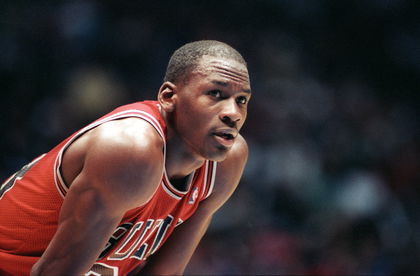 ---
---
Michael Jordan has had one of the most successful post-NBA careers in history. But he laid the foundation for this success during his playing days. Prior to entering the NBA, Jordan signed an endorsement deal with Nike, which was back then was a small running shoe company. Jordan became the face of Nike and helped propel it to the height it is at today. And now, one of his earliest Air Jordans could sell for big money.
ADVERTISEMENT
Article continues below this ad
Michael Jordan rookie shoes could sell for big money
Michael Jordan wore the Air Jordan 1 in his rookie season in the NBA. A pair of the original sneakers, which Jordan wore on the court, are up for an upcoming auction. The auctioneers are estimating that these shoes could sell for more than $100,000 during the event. These shoes aren't in mint condition, but have a little wear and tear from Jordan playing in them. The feet that wore them are the reason for their high value.
ADVERTISEMENT
Article continues below this ad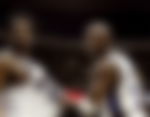 The Jordans have always been a high-value shoe. But for a pair that have been worn by Michael Jordan, fans with money are ready to break the bank to get their hands on it, especially for the year in which Jordan wore them. Jordan wore the Air Jordan 1 in the 1984-85 NBA season when he won the NBA Rookie of the Year accolade. It was the rookie season that announced the arrival of a man who would become the greatest ever.
MJ's shoes driven by his great career
Jordan went on to have one of the greatest careers in NBA history. Jordan had three separate stints in the NBA and won six championships in two of them. After years of improving and becoming the best player in the league, Jordan became an NBA champion in 1991. That kicked off his and the Chicago Bulls' first three peat. When Jordan came out of retirement for the first time in 1995, he ended up winning three more consecutive NBA titles.
ADVERTISEMENT
Article continues below this ad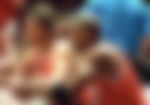 Jordan established himself as arguably the greatest player of all time. Prior to 1991, Jordan never went to an NBA Finals. But once he got there, he never lost in the finals and made it to the finals every full season that he played. That is a record that may never be matched again by another NBA player.
ADVERTISEMENT
Article continues below this ad
Will any other Michael Jordan shoe sell for more than this? Perhaps any of the shoes that he wore during an NBA Finals may garner the most value for fans.