Michael Jordan vs Dominique Wilkins: Best Slam Dunk Contest in History
Published 02/07/2021, 11:22 PM EST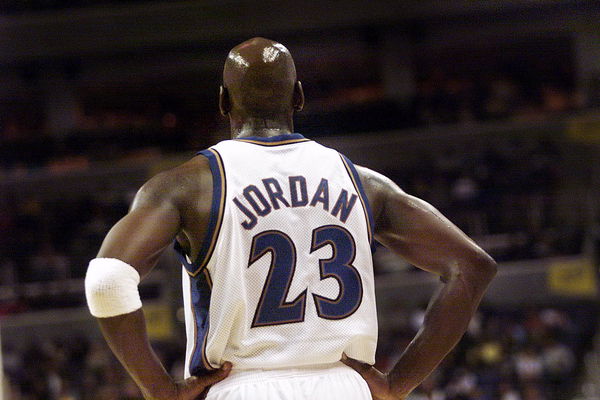 ---
---
Michael Jordan is widely considered as the greatest player of all time. With his plethora of accomplishments, the Chicago Bulls veteran is a perfect fit for the title.
ADVERTISEMENT
Article continues below this ad
One tantalizing quality that made him a living legend was the ease with which he threw down dunks. In fact, this led to him winning a pair of Slam Dunk Contests back when he was dominating the league.
Which were his most famous contests? Let's find out.
ADVERTISEMENT
Article continues below this ad
Which contest was better: 1987 or 1988?
Throughout his career, Jordan hasn't had a shortage accolades in his resume. The insurmountable success he achieved, winning the NBA Championship six times with Chicago Bulls and being the league MVP five-times, has inspired players through generations to be as competitive as him.
He was known for his drive to get wins, and that's probably how he won two consecutive Slam Dunk Contests.
MJ was part of this event thrice but won only in his final two appearances back in 1987 and 1988. However, if the two events are compared, the 1987 contest doesn't hold a candle to the 1988 one. His showdown with Dominique Wilkins is considered one of the greatest face-offs in the history of that event.
Michael Jordan vs Dominique Wilkins
It took place at Chicago Stadium on All-Star Weekend. This is the famous free-throw line dunk of Jordan against Wilkins.
He ended with a dot 50 dunk that won him his contest. However, many believed that Hall of Famer Dominique didn't get enough points for his final attempt, which was 45.
This feat made MJ the first player to win the contest twice in a row and also established the fact that he was one of the greatest dunkers the NBA had ever seen.
Later, in 1990, Wilkins also won his second dunk contest after 1985, in which he actually beat Jordan. Over the years, the dunk contest showcased many extremely talented dunkers in the league including the likes of Vince Carter, Jason Richardson, Julius Erving, and many more.
ADVERTISEMENT
Article continues below this ad
This year as well, the NBA is considering adding a Slam Dunk Contest to the All-Star Weekend festivities. This will definitely be the highlight of the event. While the participants aren't official yet, who would you like to see throw some fancy dunks?
Read also- Michael Jordan: A Look at His NBA Career With the Chicago Bulls and Washington Wizards
ADVERTISEMENT
Article continues below this ad