Michael Jordan, Who Stands at 6'6, Once Got Rejected From a Basketball Side Due to His Height
Published 06/17/2022, 3:30 PM EDT
Michael Jordan is one of the most dominant players ever who influenced millions. His career shows his ups and downs in the start, but with experience, his resume stuck to winning. He was famous right from the start of his NBA career as no one had ever seen such a versatile player on the floor ever before.
However, MJ wasn't as great from the start. In today's game, great players have a resume that stretches far back to their high school games or for some exceptionally talented, even middle school. But Jordan wasn't the best player coming into his high school days.
ADVERTISEMENT
Article continues below this ad
Michael Jordan was rejected from the varsity team
In his sophomore year, Jordan tried out for the varsity team but was rejected, as he just stood at 5'11. These days there are high school players in the US as tall as 7 feet. Jordan wasn't even 6 feet tall at the time. This fueled the fire in Jordan and he went to work. After being rejected, he worked hard all year long and also added roughly 4 inches to his height by the following year.
He was selected to play for the varsity team and would go on to average more than 20 points per game. After his fantastic senior year, he was selected to play for the McDonald's All-American Team.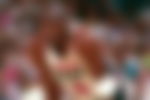 Later he would commit to North Carolina to play college basketball and get drafted by the Bulls in 1984. Unlike LeBron James and Kobe Bryant, Jordan did not come out of high school.
MJ didn't take long to adjust
After he was drafted, Jordan did not have a hard time adapting his game to the NBA pace. He averaged 28 points in his rookie year, not missing a single regular-season game.
MJ also won the rookie of the year award. He was injured the next year but would make a speedy recovery and come back to dominate in his third season averaging a whopping 37 points, and playing 82 games.
ADVERTISEMENT
Article continues below this ad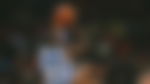 Jordan was a different element. His game was unique, and the younger generation would go on to adapt to his style of play.
WATCH THIS STORY: Emotional Michael Jordan Confessed Regrets About Losing Father: "He Never Met My Fiancée. He Never Got to See My Kids Grow Up. He Died in '93"
ADVERTISEMENT
Article continues below this ad
He is one of the GOATs with 6 rings under his name. From being rejected to play for the varsity team to single-handedly dominating the game of basketball, Michael truly had a great impact on the sport.