Michael Jordan's Mentor Stops Lakers From Russell Westbrook Trade Amid Rumors of Rift With LeBron James
Published 05/06/2022, 8:30 AM EDT
The Los Angeles Lakers had a pretty rough season, to say the least. Despite the likes of LeBron James, Russell Westbrook, Anthony Davis, and Carmelo Anthony, they failed to even qualify for the play-in tournament. However, Malik Monk and Austin Reeves seemed to be a little light of hope for the future; although they could not affect the season for the better in the grand scheme of things.
Frank Vogel, who won them the NBA Championships in 2020, could not make an impact with the veteran and experienced squad. Although for many, the Lakers' roster was 'aging' more than anything else. And in hindsight, there might be a lot of truth in that.
The Lakers decided to part ways with Frank Vogel during the last game of their campaign. However, many believed that things started to get worse as soon as the Lakers traded Russ West on such a high payroll.
ADVERTISEMENT
Article continues below this ad
Apart from Russell Westbrook having his worst season since 2009-10, Anthony Davis was also not much of help. His season was filled with stoppages and hurdles. He suffered from multiple injuries all season, which resulted in an irregular season.
The Lakers are now in desperate need of improvements within the franchise. They started the change with the firing of Frank Vogel and are now looking for a new coach to lead them back to winning ways. However, for fans, the team's priority now should be to trade out Russell Westbrook.
Phil Jackson in support of Russell Westbrook
Phil Jackson is known to have been a fan of Westbrook throughout his career. Sources say Phil Jackson has no interest in taking on this coaching job or any other himself, and he never even considered it. However, his view of Westbrook is relevant. And in his opinion, it seems like Russell Westbrook deserves another season to prove himself.
ADVERTISEMENT
Article continues below this ad
When the Lakers fired Vogel, sources say his handling of Westbrook and the inability to find a way to make him a more productive part of the program were among the factors that saw him out. There was a strong sense that it was on Vogel to make the Westbrook experiment work. And the fact that it didn't, led to questions about whether Westbrook had been put in a position to succeed. That sure smells like the hope of a Russ revival.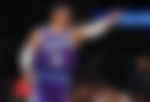 WATCH THIS STORY: 5 games that prove Russ West criticism is unfair.
ADVERTISEMENT
Article continues below this ad
Phil Jackson, who was with Michael Jordan and Chicago Bulls during their historic 6 NBA championships, was also the Lakers' head coach for more than 10 years in two different stints. After the second three-peat, Phil left the Bulls and Jordan retired. Phil mentored another superstar who was just as iconic, Kobe Bryant. He then led the Lakers to a three-peat.
In 2005, Phil returned to the Lakers after a gap of one season and won another 2 championships. Phil Jackson won 6 NBA championships in a row with two different franchises and that is why his voice matters to Jeanie Buss and the Lakers in search of a better future.