'Michael's the Best': Dallas Mavericks' Owner Made His Choice Clear Between Michael Jordan and LeBron James
Published 12/18/2020, 8:32 AM EST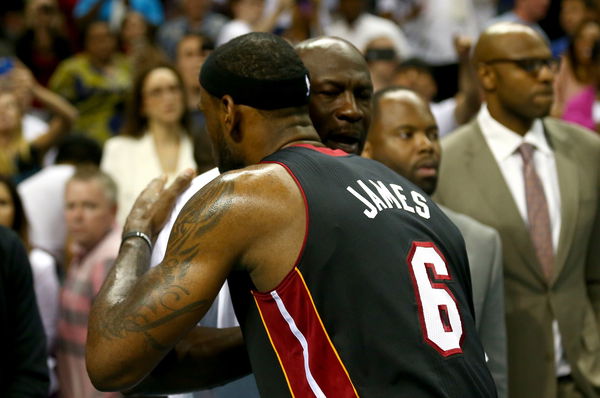 ---
---
If somebody had asked you whether you would pick LeBron James to build your team or Michael Jordan, what would your response have been? Well, one can either be a Jordan fan or a LeBron fan, but that doesn't mean one can answer this question so easily.  This is exactly where the GOAT debate stems from. But when Mark Cuban was asked the same, he knew exactly whom he wanted and why.
ADVERTISEMENT
Article continues below this ad
Where does the GOAT debate stand currently?
Although the greatest of all time debate is one that has no end, it recently caught more attention because of LeBron adding another title to his resume. He got the Lakers their 17th NBA championship after a decade and got himself his fourth ring. The 'number of championships' argument is the most common one that Jordan fans put forward to shut down this comparison.
ADVERTISEMENT
Article continues below this ad
His fans believe that because he has a better record in the NBA Finals, it is clear who the winner is. But James has dominated the Eastern Conference for the better part of over a decade. With this tough situation put forward, who did Mark Cuban pick? Michael Jordan or LeBron James?
In an interview with Scoop B, the Dallas Mavericks' owner Mark Cuban was asked, "If you had to start a franchise today, would it be with Michael or LeBron in their prime?"
ADVERTISEMENT
Article continues below this ad
Cuban had a unique but certain response. "Depends who else could I pick up. So, if it's an expansion draft, I think Bron makes everybody on the team better, right? So he's a good starting point," he stated.
"But if I got a good squad that I can put together, I want Michael as my closer. Not that LeBron's not a good closer, but Michael's the best. When that game's on the line, I'd rather have MJ at this point."
ADVERTISEMENT
Article continues below this ad
No matter what statistics one displays, fans will always support their favorites. LeBron may be an overall better basketball player, but nobody compares to Jordan's shooting. Even being considered the GOAT is an honor in itself. However, if asked again, whom would you pick for your team?