Michael Jordan and Co. Face the Wrath of NBA World with Latest Rumor on $5M Star
Published 12/25/2022, 9:39 AM EST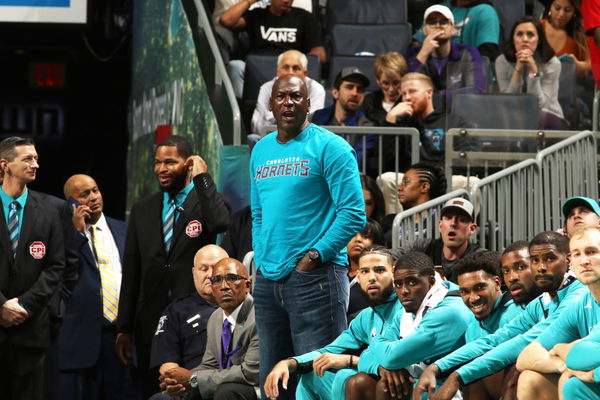 Over six months ago, Michael Jordan's team, the Charlotte Hornets, made headlines when rising star Miles Bridges was arrested under domestic violence charges. Fast forward to today, the young star of the Charlotte Hornets is reportedly in talks with the team for a new deal. Meanwhile, Bridges' recent sighting during an NBA matchup and reports of his potential return has enraged the NBA world. 
Miles Bridges, 24, has been the focus of media attention this year for all the wrong reasons. In a tumultuous off-season, Bridges found himself on the wrong side of domestic violence allegations, which forever altered his budding career. However, the recent developments after Bridges pleaded no contest to the allegations against him has stunned the Internet. The prospect of the Hornets star making a potential return to the NBA has left NBA Twitter in shambles.
Fans were enraged after news involving Miles Bridges came to light
ADVERTISEMENT
Article continues below this ad
According to an ESPN report, Miles Bridges and his team, Klutch Sports, are in talks with the Charlotte Hornets on a new deal. According to sources, there is optimism for the young star regarding a potential agreement in the coming days. 
The NBA will look to implement the suspension protocols for Bridges under the NBA collective bargaining agreement, as soon as he signs with a team. However, the duration of the suspension is unclear. The league in the past had suspended a former Charlotte player Jeffery Taylor for 24 games in 2014 after he pleaded guilty to a misdemeanor charge of domestic violence assault.
Besides the recent developments regarding his potential deal, Bridges also made the headlines for his courtside appearance on Thursday night. The young star was spotted courtside at the Hornets vs. Lakers game. Moreover, after the buzzer, LaMelo Ball approached Bridges and shared a victory dance. The clip of the incident went viral over the weekend.
The viral clip and the news of a potential deal in the wake of Bridges' serious charges has left fans enraged. Michael Jordan and Co. faced the wrath of the NBA Twitter following the recent developments.
Here are some fan reactions on Twitter:
News dumping Miles Bridges on the Friday afternoon before Christmas is one of the more disgusting PR moves I've seen in my adult life.

The lack of shame is sickening.

— Danny Marang (@DannyMarang) December 23, 2022
Maybe don't post about Miles Bridges…

— Jonathan Lyne (@JonathanLyne2) December 24, 2022
A terrible look but not unexpected. Very difficult to pull for the clown show home team

— Damien Williams (@dayman23) December 24, 2022
how is miles bridges not in prison bro its crazy

— nast (@champchimaev69) December 25, 2022
Man the Miles Bridges news just gross all the way around

1) That Charlotte wants him back
2) That ESPN agreed to a Friday 5 PM ET news dump to minimize PR blowback
3) That ESPN wrote or agreed to write the phrase "his role in an offseason domestic violence case"

— Andy Larsen (@andyblarsen) December 23, 2022
This is a HORRENDOUS look for the @HornetsPR or @MELOD1P.

You gotta cut this shit out. I get that players will still be in contact, maybe even helping the guy on a new path but dancing at courtside does not set a good impression to anybody.

— Eamer (@eamer) December 24, 2022
if cancel culture means holding domestic abusers accountable then i'm all for cancel culture

— Naptown Crown 👑 (17-16) (@NaptownCrown) December 24, 2022
Bridges' case remains under investigation by the league.
Miles Bridges' arrest
ADVERTISEMENT
Article continues below this ad
Miles Bridges was arrested on June 29 in Los Angeles for a domestic violence warrant. He was later released on bail on a hefty $130,000 bond. Fast forward a few months, Bridges pleaded no contest to the charges against him. As per his reduced punishment, Bridges will serve three years on probation. He will also have to complete 52 weeks of domestic violence and parental counseling and perform 100 hours of community service.
Watch the Story – 5 times Michael Jordan was straight up mean to famous celebrities
In the off-season, Bridges and the Hornets were in talks for a max extension worth over $100 million. However, due to his arrest, the Hornets did not move forward with his signing but retained his rights as a restricted free agent.
ADVERTISEMENT
Article continues below this ad
Edited By: Satagni Sikder