Millionaire Shaquille O'Neal Triggers Reunion Rumours of 90s Hip Hop Trio with $200 Million Question to Mark Wahlberg
Published 11/23/2022, 4:30 PM EST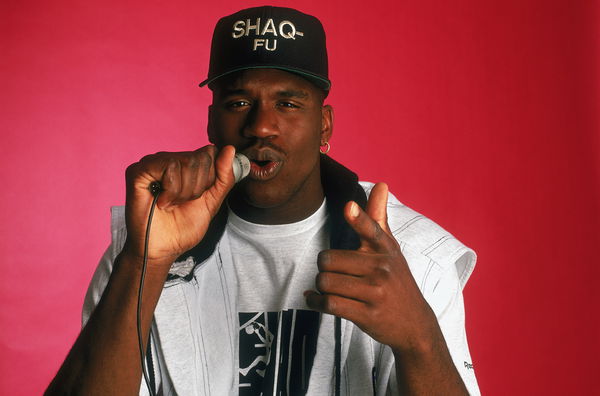 Los Angles Lakers legend Shaquille O'Neal has been closely associated with hip-hop since his college days. The four-time NBA champ established himself as a renowned rapper with his debut album, Shaq Diesel, which sold over 1 million copies back in the day. Recently, millionaire Shaquille O'Neal triggered reunion rumors of a famous hip hop trio from the 90s with a $200 million question to renowned actor Mark Wahlberg.
Mark Wahlberg recently made an appearance at NBA on TNT to promote his Mexican tequila brand and clothing line Municipal. Wahlberg is a successful actor who won nine Primetime Emmy Awards, three Golden Globe Awards, and two Academy Award nominations.
ADVERTISEMENT
Article continues below this ad
The renowned actor is also a successful businessman worth $400 million and a former member of the hip-hop group Marky Mark and the Funky bunch. Recently, Shaquille O'Neal asked an interesting question to Wahlberg, which may brew rumors about the reunion of the famous hip-hop trio.
Shaquille O'Neal asks a $200 Million question
Wahlberg was a part of the famous hip-hop band that performed and released a number of songs between 1991 and 1993. Apart from Wahlberg, the group comprised of Scott Gee, Hector the Booty Inspector, DJ-T, and Ashey Ace. During the broadcast, Shaq asked Wahlberg a question that could have possibly revealed his intentions of getting back into the rapping world. Shaquille O'Neal said, "Mark, be honest! If a promoter pays you $200 million to bring Marky Mark and the Funky Bunch. Would you do it?"
The 15-time All-Star asked Wahlberg if he was willing to bring back the rap crew that the famous actor was a part of in the 90s. The Marky Mark and the Funky Bunch rose to fame with their song 'Good Vibrations, which became number 1 on the Billboard Hot 100 in 1991. In addition, the trio's follow-up rap "Wildside" also managed to make it to number 10 on the Hot 100 list.
ADVERTISEMENT
Article continues below this ad
In response to Shaq's question, Wahlberg provided a vague answer. However, he somewhat seemed to be open to it provided the huge sum of money.
Is Shaq planning on reuniting Wahlberg's rapping trio?
Shaq has been closely associated with music for a long time. The Lakers legend followed his passion for DJing after retiring from the NBA. However, it seemed like Shaq was looking to get back into the rapping business with Mark Wahlberg's music group. In addition, O'Neal also admitted to attending one of the group's gigs back in the day.
ADVERTISEMENT
Article continues below this ad
WATCH THIS STORY: Here's how Ben Simmons, LeBron James, Shaquille O'Neal, and other NBA stars spent their first paychecks 
Therefore, we can't completely dismiss the possibility of Shaquille O'Neal ending up being the promoter offering Wahlberg $200 million for the reunion.
Edited By: Satagni Sikder