Millionaire Shaquille O'Neal, Who Was Inspired By Jeff Bezos, Reveals Intriguing "Handshake" Business Principle
Published 05/17/2022, 4:30 PM EDT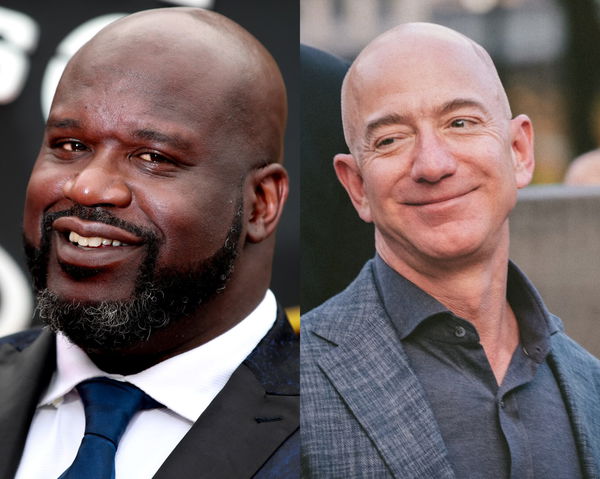 Millionaire, NBA champion, and an overall nice guy can be some words used to describe Shaquille O'Neal. If you think his achievements are restricted to only the basketball court, you are wrong.
The Los Angeles Lakers legend built a name for himself in the business industry after retiring from the NBA. Thanks to some smart investments, Shaq has one of the highest net worths in the basketball world.
Moreover, he revealed his business secrets in an interview. When asked about his secrets in the business he handles, Shaq stressed trust and handshakes.
ADVERTISEMENT
Article continues below this ad
Shaquille O'Neal gives an insight into his business ethics
There is undeniable proof to suggest that Shaquille O'Neal is one of the greatest players ever. He has 4 NBA titles to his name with the Los Angeles Lakers and the Miami Heat. His trophy cabinet is filled with individual accolades as well. Furthermore, his achievements go beyond the basketball court. After retiring from the NBA, he focused on his business ventures which have helped him achieve a massive net worth.
Talking about how he conducts his business deals, Shaq had a lot to say.
O'Neal said, "Ethically, honorably, and hand shakily. What I mean by that is a lot of times when I do deals it's on a handshake. Like, I'll meet with a company that is okay, boom and then I let the lawyers get involved. If I can. If one of those are off, I won't do the deal."
ADVERTISEMENT
Article continues below this ad
He added, "I just like to, you know, keep it simple. If I can't trust you, we can't do things right. So, those are my principles."
Interestingly enough, Shaq credited Billionaire Jeff Bezos for inspiring him to do business smartly. Moreover, he revealed he quadrupled his worth after following Bezos' investing model!
WATCH THIS STORY: Vanessa Bryants Most Valuable Investments
ADVERTISEMENT
Article continues below this ad
During his illustrious time in the NBA playing for various teams, Shaq earned around $292 million in salaries alone! Furthermore, he earned an additional $200 million during the same time period from endorsements.
In case you have been living under a rock, Shaq is also a panelist for the Inside the NBA show. It is one of the most popular half-time and post-game analysis shows. That rakes in a healthy salary as well. Although nothing is revealed, he earns well around $60 million from salaries and endorsements to this day.