Milwaukee Bucks 2021-22 NBA Schedule: Key Fixtures Against Nets, Lakers and More
Published 09/26/2021, 1:18 PM EDT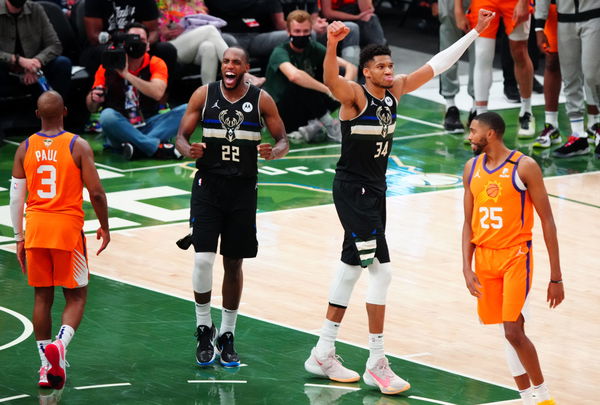 ---
---
After a quick off-season, the NBA is set to return soon. The defending champions Milwaukee Bucks will go all guns blazing to retain their crown. However, their path to glory will not be easy. Giannis Antetokounmpo and co. have a tough set of fixtures ahead of them. Right from the onset, many challenging games await the champions.
ADVERTISEMENT
Article continues below this ad
Last season, the men in green were aided by quality play from Giannis. Along with him, the likes of Khris Middleton, Jrue Holiday and Brook Lopez also made some valuable contributions. This time around, their mainstays will return fresh and ready to go again. With that being said, they will have to get going right from game one. Let's take a closer look at what the Bucks' season ahead looks like.
ADVERTISEMENT
Article continues below this ad
What are the key Milwaukee Bucks fixtures in 2021-22?
In their very first game of the new edition, the reigning winners will lock horns against the Brooklyn Nets. In a repeat of last year's final, it will be Giannis vs Durant yet again, on the 19th of October. This battle of the trios will kickoff at 7:30 PM EST. Next up, a road trip to Miami awaits them, as they face off against the Heat on October 21st.
ADVERTISEMENT
Article continues below this ad
In November, Mike Budenholzer's men face back-to-back intense clashes. On the 17th of November, the side hosts the Los Angeles Lakers at Fiserv Forum, at 8:30 PM estimated. Right after this, the Bucks will welcome the Oklahoma City Thunder on November 19th. Meanwhile, in December, a blockbuster Christmas Day match-up against the Boston Celtics is slated to take place. Apart from this, games against the Rockets and Mavericks await. In January, the Toronto Raptors and Golden State Warriors will look to spoil the Milwaukee party.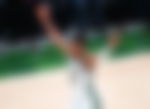 Watch This Story
Bucks' schedule for 2021-22 NBA season (CT)
ADVERTISEMENT
Article continues below this ad
| | | | |
| --- | --- | --- | --- |
| Oct 19 6:30 PM |  Nets | Jan 17 5:00 PM | Hawks |
| Oct 21 7:00 PM | Heat | Jan 19 7:00 PM | Grizzlies |
| Oct 23 7:30 PM | Spurs | Jan 21 7:00 PM | Bulls |
| Oct 25 6:00 PM | Pacers | Jan 22 7:00 PM | Kings |
| Oct 27 7:00 PM | Timberwolves | Jan 26 6:00 PM | Cavaliers |
| Oct 30 7:00 PM | Spurs | Jan 28 9:00 PM | Knicks |
| Oct 31 6:00 PM | Jazz | Jan 30 6:00 PM | Nuggets |
| Nov 2 6:00 PM | Pistons | Feb 1 6:30 PM | Wizards |
| Nov 5 6:30 PM | Knicks | Feb 5 9:00 PM | Trail Blazers |
| Nov 7 5:00 PM | Wizards | Feb 6 8:00 PM | Clippers |
| Nov 9 6:30 PM | 76ers | Feb 8 9:00 PM | Lakers |
| Nov 10 6:30 PM | Knicks | Feb 10 9:00 PM | Suns |
| Nov 12 6:30 PM | Celtics | Feb 14 7:00 PM | Trail Blazers |
| Nov 14 5:00 PM | Hawks | Feb 15 7:00 PM | Pacers |
| Nov 17 6:30 PM | Lakers | Feb 17 7:30 PM | 76ers |
| Nov 19 7:00 PM | Thunder | Feb 26 7:30 PM | Nets |
| Nov 20 7:00 PM | Magic | Feb 28 7:00 PM | Hornets |
| Nov 22 7:00 PM | Magic | Mar 2 7:00 PM | Heat |
| Nov 24 7:00 PM | Pistons | Mar 4 6:30 PM | Bulls |
| Nov 26 8:00 PM | Nuggets | Mar 6 2:30 PM | Suns |
| Nov 28 4:00 PM | Pacers | Mar 8 7:00 PM | Thunder |
| Dec 1 7:00 PM | Hornets | Mar 9 6:30 PM | Hawks |
| Dec 2 6:30 PM | Raptors | Mar 12 7:30 PM | Warriors |
| Dec 4 7:00 PM | Heat | Mar 14 9:30 PM | Jazz |
| Dec 6 7:00 PM | Cavaliers | Mar 16 9:00 PM | Kings |
| Dec 8 6:30 PM | Heat | Mar 19 4:00 PM | Timberwolves |
| Dec 10 7:00 PM | Rockets | Mar 22 7:00 PM | Bulls |
| Dec 12 11:00 AM | Knicks | Mar 24 7:00 PM | Wizards |
| Dec 13 6:30 PM | Celtics | Mar 26 7:00 PM | Grizzlies |
| Dec 15 7:00 PM | Pacers | Mar 29 6:00 PM | 76ers |
| Dec 17 9:00 PM | Pelicans | Mar 31 6:30 PM | Nets |
| Dec 18 8:00 PM | Cavaliers | Apr 1 7:00 PM | Clippers |
| Dec 22 7:00 PM | Rockets | Apr 3 12:00 PM | Mavericks |
| Dec 23 7:30 PM | Mavericks | Apr 5 7:00 PM | Bulls |
| Dec 25 1:30 PM | Celtics | Apr 7 6:30 PM | Celtics |
| Dec 28 6:00 PM | Magic | Apr 8 6:00 PM | Pistons |
| Dec 30 6:00 PM | Magic | Apr 10 TBD | Cavaliers |
| Jan 1 5:00 PM | Pelicans | | |
| Jan 3 7:00 PM | Pistons | | |
| Jan 5 7:00 PM | Raptors | | |
| Jan 7 6:30 PM | Nets | | |
| Jan 8 6:00 PM | Hornets | | |
| Jan 10 6:00 PM | Hornets | | |
| Jan 13 6:30 PM | Warriors | | |
| Jan 15 5:00 PM | Raptors | | |
WATCH THIS STORY: How the World of Hip Hop Has Paid Homage to Kobe Bryant Over the Years