Giannis Antetokounmpo Does His Best Shaquille O'Neal Impression During Dominant Display in NBA Finals Game 3 vs Suns
Published 07/11/2021, 11:58 PM EDT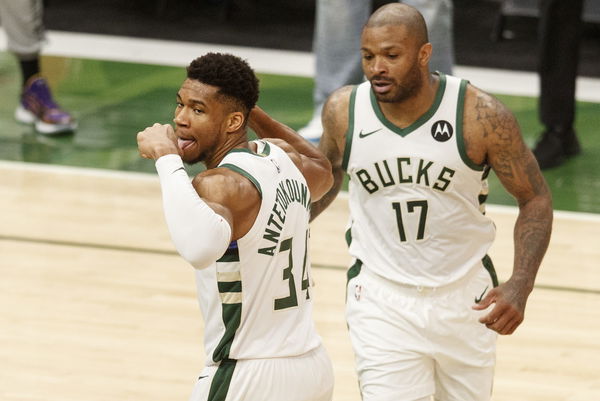 ---
---
The Milwaukee Bucks added flavor and fervour to the NBA finals with their Game 3 win. Giannis Antetokounmpo and men registered a 20-point victory over the Phoenix Suns and showed that it would be foolish to count them out. It was an optimal use of home crowd advantage as the deers held the serve.
ADVERTISEMENT
Article continues below this ad
The Suns, as was the case in Game 2, looked clueless against Giannis, who kept scoring seamlessly. The Freak scored more points than Mikal Bridges, Jae Crowder, and DeAndre Ayton combined. His dominance inside the paint made the fans relive those Shaquille O'Neal moments they long ago cherished.
ADVERTISEMENT
Article continues below this ad
Is Giannis Antetokounmpo ready to rule like Shaquille O'Neal?
Giannis Antetokounmpo is a 6'11" 250 lbs beast with the physique of a heavyweight ribbed UFC fighter. For sure, a 7' 1" 325 lbs heavy Shaquille O'Neal was a greater giant, their game play is very much comparable. Both the entities have the paint as their playground and that's where even the most elite defenders can not mess with them.
Take, for example, Game 3 where the Greek Freak drilled 24 points (12/12 FG) inside the restricted area. His hammering near the glass was so good that he was fiesting on the Suns thoughout the night. This was exactly how Shaq played during his golden years with the Lakers when everything, breaking the rim with his dominance. 
Giannis finished with 24 points in the restricted area (12-12 FG), tied for the most in an NBA Finals game over the last 25 years (LeBron James in 2017 and Shaquille O'Neal in 2004). pic.twitter.com/suEDv8BDaN

— ESPN Stats & Info (@ESPNStatsInfo) July 12, 2021
Also, The Big Shamrock was a big zero when it came down to perimeter shooting. However, he was wise enough to never try something he was not good at. The same goes with his free throw shooting, where his career averaged a paltry 52.7%. Similarly, Giannis, although better than Shaq from downtown, is hardly a reliable long-range player and surely a struggling free throw (55% in playoff 2021) shooter.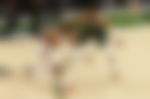 Other striking comparables between the two legends
Giannis Antetokounmpo surely keeps the ball possession outside the paint more often than Shaq ever did, their styles are similar. Consider this, Shaquille O'Neal trusting Kobe Bryant for making the game-winning shots allowed the Mamba to become a clutch entity. Similarly, Giannis does not hesitate in recognizing the perimeter shooting prowess of Khris Middleton when it comes to an expiring game clock.
ADVERTISEMENT
Article continues below this ad
Additionally, the 4x NBA Champion, Diesel spent his entire year taking criticism for lacking many skills of an elite baller. Similarly, many give Giannis' physique the credit for his rim dominance and discount him on everything else that he does. The Freak is certainly one of the best defenders ever and his mid-range shooting is also in growth, making him a well-rounded player. 
Lastly, Shaq's 2000-02 (three seasons) playoff average stood at 29.9 points, 14.5 rebs, and 3 assists. Compare this to Giannis' 2021 postseason where he is amounting close to 29.2 ppg, 13 rpg, and 5 apg. 
All this signals that more than Zion Williamson, it is Giannis Antetokounmpo who is looking every bit like the success of Shaq. Do you agree with the assessment? Help us know in the comments.
ADVERTISEMENT
Article continues below this ad
Watch this story – Chris Paul, Kevin Durant, and Others with Hidden Meaning Behind Their Jerseys