Bucks' Giannis Antetokounmpo Joins Shaquille O'Neal and Others in a Pitiful NBA Record
Published 01/16/2021, 12:28 AM EST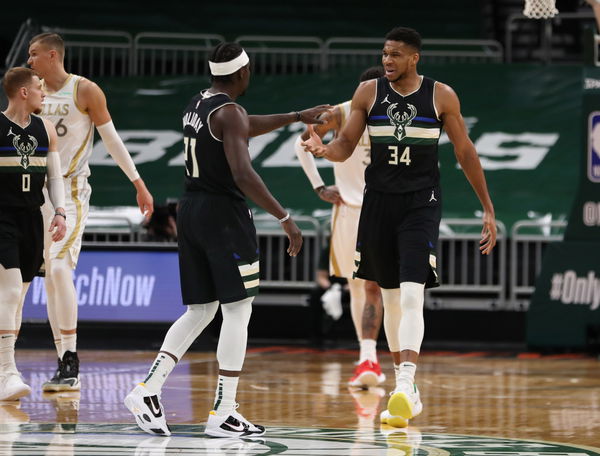 The Milwaukee Bucks' Giannis Antetokounmpo is a bag full of surprises. When he is good, he is MVP good, and when he is bad (a rare case), his name is in the record books. At least that is what happened in the Bucks' win against the Dallas Mavericks.
The Bucks defeated the Mavs 112-109 in a game that almost went into OT. The clutch-moment goof-ups by the Mavs gifted the Bucks a victory on the former's home court.
After this win, the Downtown is back on #2 of EC rankings. Still, there is something about their leader Giannis that must concern them.
ADVERTISEMENT
Article continues below this ad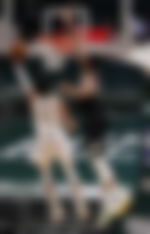 Giannis Antetokounmpo and a disgraceful league record
The Greek Freak had a great start to the game against the Mavs. He played for 15 minutes in the first half and scored 16 points, 5 rebs, 1 assist, and 1 block.
But there was one area where he was miserable. He made just 1 of his 5 field throws.
It got even worse in the second half, where he made zero field throws in as many attempts. This 1/10 from the line was the worst performance since Andre Drummond (Pistons) in 2017 among others like legend Shaquille O'Neal.
Giannis Antetokounmpo is the 4th player over the last 25 seasons to shoot 10% or worse on free throws in a game (min. 10 FTA), joining Andre Drummond (4x), Al Horford and Shaq (2x).

His 10% (1-10) mark was the worst in a game in Bucks history (min. 10 FTA).

H/T @EliasSports pic.twitter.com/kZZvl0jTGI

— ESPN Stats & Info (@ESPNStatsInfo) January 16, 2021
And this is not a newly discovered area of struggle for the reigning MVP. He has been drawing fouls and gaining record-setting scoreless FTs since last season. Take a look at this stat-
ADVERTISEMENT
Article continues below this ad
These numbers do not show him in a good light, even when he is one of the most dominant players inside the paint. As a result, he plays an aggressive game and does not shy away from contact. Only if he works on his FTs, it can hugely benefit the Bucks. 
The Greek Freak's race to MVP under trouble?
In the current season, Giannis is averaging 26.2 points, 10.1 rebs, and 5.5 assists at 52% from the field. Now, these figures might look impressive, but the bar is set high for the 2-time MVP.
ADVERTISEMENT
Article continues below this ad
Also, his own teammate, Khris Middleton, is averaging 5.7 apg, with 53% from the field, 46.8% from behind the arc, and 94.7% from the free-throw line. All these figures are better than those of the Greek Freak. Although it's not an internal competition, Giannis must up his game if he wishes to win the MVP award third year in a row. 
It will be interesting to see how coach Mike Budenholzer can help the star get better in these areas and eventually take the Bucks to the top.