Milwaukee Bucks' Legend Explained What Helped Giannis Antetokounmpo and Co. Grab the 2021 NBA Title
Published 07/27/2021, 11:30 AM EDT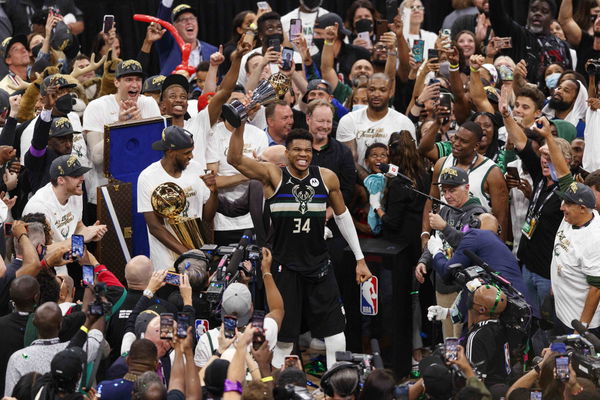 A name that once upon a time had the world struggling to pronounce has now led a franchise to their first NBA championship in 50 years. Giannis Antetokounmpo was the skinny teenager that wasn't as popular as some other great's before entering the league. However, his growth has made him more dominant than most on the court today. And it's only fitting that he is called the 'Greek Freak'. But former Milwaukee Bucks players were able to break down what helped the Bucks bag this historic victory.
ADVERTISEMENT
Article continues below this ad
Milwaukee Bucks' physicality was the trump card
ADVERTISEMENT
Article continues below this ad
The Milwaukee Bucks did the unthinkable and were the ultimate underdogs that came through to the NBA Finals. In a season filled with teams struggling to keep their players healthy, they defeated some elite teams to finally demolish the Phoenix Suns.
On the court, they brought about their A-game, always. But if one hand to pin-point their best quality, it was their physicality. Atleast that's what former Bucks' Bob Dandridge also believes.
On basketball News, some former Bucks players joined Etan Thomas to discuss their latest achievement. However, Bob focused on Milwaukee's best quality this season. He stated, "I think in the playoffs, whether it's the 70s, 80s or 90s, the game always gets physical in the playoffs. If we look back, it's been the physical teams that have won in the playoffs."
"So, I think Milwaukee with this physicality, that's where they began to take over. It started in the games when Giannis missed games against Atlanta. It gave Lopez an opportunity to work down low and then going down the stretch in the last two games when they moved Giannis to the three-position to the four or five position. He just began to dominate.  So, no matter who the champion is, we'll always look back and see the team that's the most physical going into the playoffs and winning. And that's what I think pulled Milwaukee through."
WATCH THIS STORY: Giannis Antetokounmpo's Free Throws From the Bus, P.J. Tucker's Speech & Other Top Moments From Milwaukee Bucks Championship Parade
Can they run it back next season?
ADVERTISEMENT
Article continues below this ad
As Bob Dandridge said, the team that becomes more physical has a higher chance of surviving in the playoffs. So, with the Bucks trio remains intact and they build an even better roster around them in the offseason, they might be able to create a legacy of their own.
But let's not forget how competitive the East was and it is only uphill from here. Some even believe that Milwaukee just got lucky and they used the other teams' misfortune as a stepping stone for their success. But it isn't their fault players suffered injuries this season, is it?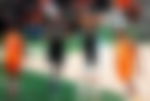 The Bucks deserved the Larry O'Brien trophy that they lifted and credit should be given where it's due. Only time will tell how far Giannis and Co. can take the franchise from here.
ADVERTISEMENT
Article continues below this ad