Money Man: Lakers' Teammate Pokes Fun at Kyle Kuzma for His New Lamborghini Car
Published 01/09/2021, 6:45 PM EST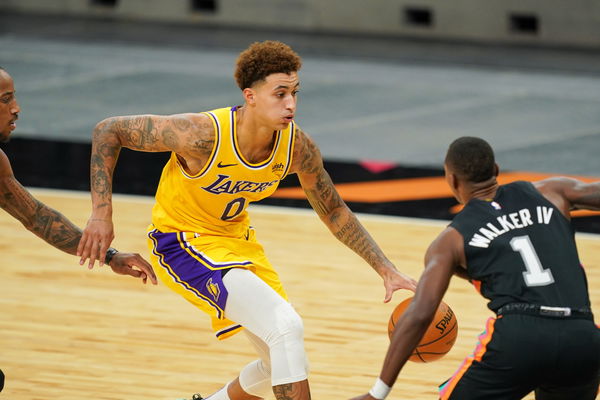 ---
---
The Los Angeles Lakers are one of the deepest rosters in the NBA. One of the most crucial rotational player for their side is Kyle Kuzma. The 26-year-old has been with  the Lakers since 2017 and over the years shown flashes of superstar potential.
ADVERTISEMENT
Article continues below this ad
Kuzma in the last two years has adjusted to a new role as a rotational player. He has impressed the team and coaching staff with the versatility he has shown. The Lakers surely did not want to let go off of Kuzma and thus tied him down to a 3-year extension worth $40 million.
Veteran Jared Dudley had a hilarious exchange with Kuzma who pulled up in his new Lamborghini. Dadley taunted Kuzma and said "My man got that newww moneyyyyyy" referring to the money he received with the new contract.
ADVERTISEMENT
Article continues below this ad
Kuzma is one of the younger players the Lakers. the organization will expect him to step up after the departure of Danny Green. Kuzma had a disappointing season last year, as he was very inconsistent with his scoring.
Why this season is make or break for Kyle Kuzma
Kyle Kuzma has had a decent career till now. After being drafted as the 26th pick in the 2017 draft, he has extensively developed. His performances in the first two seasons were exceptionally well. He was coming up as the face of the franchise.
But with the arrival of stars like LeBron James and Anthony Davis, his output dropped. He was unable to adapt to a bench role, thus his productivity took a hit.
Kuzma till now has been decent this season. In the ten appearances this regular season, Kuzma has seen a drop off in his playing minutes and thus the lack of output.
ADVERTISEMENT
Article continues below this ad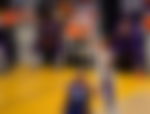 With such a deep roster, Kuzma is moving down the pecking order given his disappointing performances. It's about time he step up and proves himself in the near future.
Kuzma should also be aware of his new contract and how it has made him an easy trade target. Before the extension, Kuz had one of the smallest contracts in the side thus him not being a good trade asset. Given his new contract however, he becomes one of the biggest trade assets they have.
ADVERTISEMENT
Article continues below this ad
Kuzma will have to make the most of his minutes in order to stay ahead in the rotation. He has to become much more consistent to be in the roster.  If he does, he might be up for a bigger role under Coach Frank Vogel and the Lakers.