4 Months After UFC Dare from 7 ft NBA Giant, Shaquille O'Neal Disobeys Own Mother to Stoke Flames of Dying Beef
Published 02/15/2023, 7:50 AM EST

Follow Us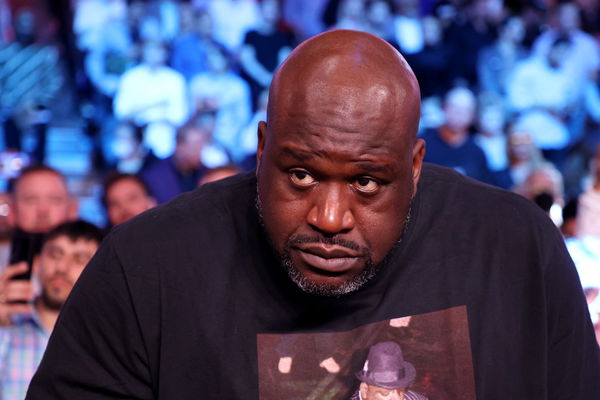 After a dominating NBA career, Los Angeles Lakers legend Shaquille O'Neal chose to remain close to the sport by taking on a new role as an analyst. The four-time NBA champ has developed a reputation for his insightful takes on issues and his honest opinions on controversial players. However, the truthful takes from Shaquille O'Neal have sometimes made way for beef between himself and the stars in question. Recently, four months after receiving a UFC dare from a 7ft former Lakers big man, Shaquille O'Neal disobeyed his mother to rekindle the flames of a dying beef.
Shaquille O'Neal is not a big fan of 2020 NBA champ Dwight Howard. Back in October, Shaquille O'Neal was also challenged by Howard for a UFC fight to sort their beef out once and for all. However, the beef came to a halt after criticism from the Big Diesel prompted his mother Lucille O'Neal to ask Shaq to apologize. After months of silence, the 15-time All-Star has decided to disregard mother Lucille's orders as he fired yet another shot at Dwight Howard recently.
Shaquille O'Neal fuels beef with Dwight Howard
ADVERTISEMENT
Article continues below this ad
Shaquille O'Neal is quite famous for using facts on social media to take a dig at people instead of using his own words. Recently, Shaq shared one such fact while taking a shot at Dwight Howard. The three-time Finals MVP recently added a post to his Instagram story that gave an insight into how the eight-time All-Star and his team have performed so far during his first stint at the T1 league in Taiwan. The text in Shaquille O'Neal's recent update read, "Dwight Howard and the Taoyuan Leopards are currently last place in the T1 league."
 

View this post on Instagram

 
Despite Howard being named the 2023 T1 League All-Star, his Leopards are struggling badly. They are currently in the last position in the standings with a 3-11 record. While Howard has shown some impressive performances, including 38 points, 25 rebounds, nine assists, and nine blocks in a game during a 120-115 victory in the Taiwanese league, the former Lakers center has not been able to secure consistent victories for his team so far.
The disappointing stat about Howard's team triggered a response from Shaquille O'Neal, who reignited his beef with the 7 ft tall NBA veteran despite his mother's advice against it.
ADVERTISEMENT
Article continues below this ad
Shaq's mother forced him to apologize to Howard
Months after Howard challenged Shaquille O'Neal to a UFC fight, the NBA Hall of Famer gave a withering reaction to Dwight's debut with the Leopards in the T1 League. However, a week later, Shaq apologized to Howard saying that his mother, Lucille O'Neal, was not too happy about his comments.
Shaq confessed that his mother had scolded him for messing with Dwight. The 2000 NBA MVP said, "So Mr. Dwight Howard. I owe you an apology and I will never hurt your feeling again."
ADVERTISEMENT
Article continues below this ad
Watch the Story – 7'6" NBA reject turns into Shaquille O'Neal in China
Unfortunately, Shaq ended up disobeying his mother recently as he fired another shot at Dwight Howard on Instagram.
Edited By: Satagni Sikder