'More Disappointed in Jimmy': Stephen A Smith Plays Down Comparisons Between Jimmy Butler and Dwyane Wade
Published 05/31/2021, 11:42 PM EDT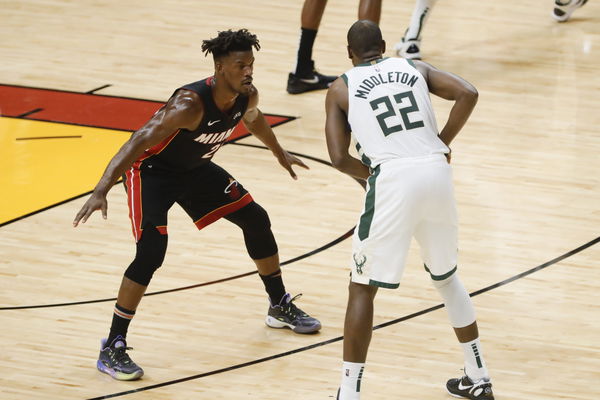 ---
---
After the Miami Heat made their way to the NBA Finals last season, nobody excepted them to struggle so much this season, let alone get swept in the first round of the playoffs. And when this happened at the hands of the vengeful Milwaukee Bucks, the elimination felt worse. There were high hopes from Jimmy Butler and his leadership. Even NBA analyst Stephen A. Smith is furious at him for this sad outcome.
ADVERTISEMENT
Article continues below this ad
The Milwaukee Bucks are a team to look out for
The Miami Heat were the ones responsible for the Bucks' early exit in the postseason last year. This 4-0 run this season was a tit-for-tat by the Bucks. While Bucks fans are relieved, Heat fans are nothing but furious. Losing is not the problem; the problem is losing four straight games. This has been a hot topic for discussion, and Max Kellerman and Stephen A. Smith also gave their opinions on it.
ADVERTISEMENT
Article continues below this ad
On ESPN's First Take, Kellerman and Smith are asked whether they're more impressed with Giannis Antetokounmpo or disappointed with Butler. While Kellerman agrees with the former, Smith's opinion was the latter. "I am more disappointed in Jimmy Butler," said Smith, making his stance clear.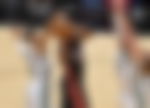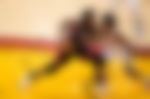 Stephen A. Smith criticizes Jimmy Butler
Smith accepted that with the Bucks' offensive prowess that includes Giannis, Jrue Holiday, Brook Lopez, and even P. J. Tucker, it is only natural for the Heat's defense to collapse. He admitted that even the Brooklyn Nets need to be wary of such a team ahead in the playoffs. However, he believes Butler had no excuse for performing so poorly.
Smith stated, "Jimmy Butler averaged 14.5 points on worse than 30% shooting. You signed a max deal, 4 years of $141 million. Did you know he was eligible for an extension? 4 years, $181 million, guaranteed $36 million next year. You do understand that approaching age 33… you do understand that it's around the time Miami started giving the Dwyane Wade waivers".
Smith clarified that his comments don't mean that he doesn't like Butler. In fact, he believes if Butler was in 76ers instead of the Heat, Philly would have had a shot at winning the title last year.
ADVERTISEMENT
Article continues below this ad
Smith further added, "But let me be clear, Jimmy Butler is no Dwyane Wade. Not what Dwyane Wade was to the Miami Heat. If they can do something like that to Dwyane Wade, where they have trepidation and apprehension, what the hell do you think they're thinking about Jimmy Butler now? We can be swept by anybody… and not give up this much money."
After hearing Smith, should Butler be concerned about what the Heat will decide? Or will Miami not give up on him so easily, taking into consideration their last close run to a title? This has certainly raised a lot of questions but only time will tell what will go down.
ADVERTISEMENT
Article continues below this ad
WATCH THIS STORY: LeBron James vs Jae Crowder; How The Tension Between the Two Escalated During Lakers vs Suns