"Most Overused Taunt in the League": Michael Jordan Fans Face-Palming Somewhere as 26-Year-Old Hornets Star Makes Outlandish Move
Published 11/29/2022, 10:39 PM EST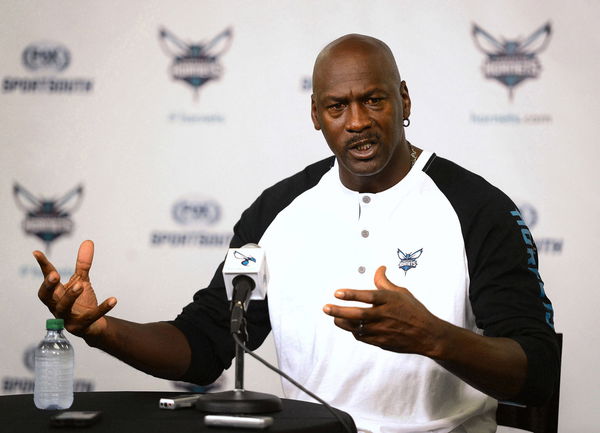 The Boston Celtics currently sit on the top of the Eastern Conference table with a 17-4record for the season so far. The Celtics added to their four-game winning streak after torching the Charlotte Hornets 140-105 on Tuesday night. Since the start of the game, the Celtics seemed to be in full domination, and Michael Jordan's Hornets struggled on the night. Furthermore, to make things worse, Kelly Oubre Jr. decided to make an outlandish move. As the clip went on the internet, the Hornets player's moves brought out plenty of reactions from the NBA community.
During the 3rd quarter of the game between the Celtics and the Hornets, the Celtics were in a 30-point lead. It seemed like Kelly Oubre Jr. knew the outcome so he decided to do some showboating. After scoring a floater over 6'7″ Sam Hauser, Oubre decided to do the "too small" celebration. However, looking at the situation of the team, that celebration possibly came at a bad time.
ADVERTISEMENT
Article continues below this ad
And it didn't take long for Oubre Jr.'s clip to go viral on the internet. And Hornets fans might be face-palming somewhere after seeing the celebration while the team was down 28 points. One of the fans came forward with their view saying, "Most overused taunt in the league."
Here are some of the reactions from NBA Twitter:
Lmao someone needs to humble him

— LeFrauds Goat (➿-0) ➐ (@PaoloGOATchero) November 29, 2022
Oubre with the floater..BANG! Hornets cut the deficit to 28

— riconasty (@heyRickyB) November 29, 2022
The Boston Celtics' winning run continues
When it comes to winning, making records, and dominating on the court, the Boston Celtics arguably always come to the conversation. In two of the four quarters, the Celtics dropped 40+ points. One of the key men in charge was Jayson Tatum who scored 35 points, 3 rebounds, and 3 assists in 30 minutes. Making it the best performance of the night.
ADVERTISEMENT
Article continues below this ad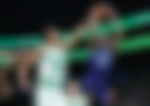 Another key contributor for the Celtics was Marcus Smart, who made some of the best assists on the night and scored 22 points.
WATCH THIS STORY: Kevin Durant, Dwyane Wade and Other Celebrities Left in Awe as LeBron James' Sons Show They are Ready to Carry Forward His Legacy 
ADVERTISEMENT
Article continues below this ad
On the other hand, Jalen McDaniels was the top performer for the Charlotte Hornets. He scored 24 points, 1 rebound, and 2 assists. Kelly Oubre Jr. scored 22 points, 5 rebounds, and 3 assists. Michael Jordan will undoubtedly be unhappy with the way his team performed and lost by such a large margin.
What was your reaction to the celebration? What did you think of the game? Let us know in the comments below.