From LeBron James to Michael Jordan, Most Popular NBA Players on Social Media in 2020
Published 12/29/2020, 7:30 AM EST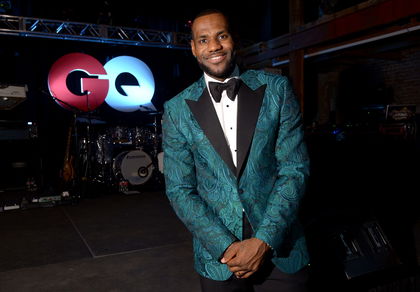 ---
---
Today, sponsors and fans measure the star power of an athlete by comparing their total social media followers. Interestingly, NBA players are one of the most followed and popular sports persons in the glittery world of sports. Former hoopsters like Allen Iverson, present-day players like LeBron James, and future stars like LaMelo Ball, all boast of a huge deal of success.
ADVERTISEMENT
Article continues below this ad
Amongst all the different social apps, Instagram stands out with these athletes' mega reach. This, because fans consume Twitter more for the newsy stuff. IG, on the other end, allows the players to develop more intimate connections with their hardcore fans. 
So, lets take a look at the Top 5 NBA players who ruled Insta in 2020.
ADVERTISEMENT
Article continues below this ad
Is your personal favorite featured on this list of most followed NBA players?
There are innumerable basketball names that have crossed the mark of a million followers. So, it makes sense to list only those who are sitting at the very top. Period. Check out the list in bottom-to-top order.
#5 Dwyane Wade – 17.1 Million 
This should not come as a surprise because Dwyane has one of the most active IG accounts on this list. At the time of writing this article, he had 3005 posts under his name. The star who single-handedly helped the Miami Heat win their maiden NBA Championship deserves every bit of respect. Plus, he is, in all the possible definitions, a true style icon and a genuinely colored personality who does not hide away from mocking his own self in order to entertain his fans.
#4 Shaquille O'Neal – 18.1 Million
The Big Shamrock is obviously big at his fan following. Dr. Shaq likes to call himself a "Film Director" in his Insta bio and has another verified page named @Shaqtinafool. This 4-time Champion is also a great business mind and a very vocal NBA analyst, whose words matter to a large pool of audience. Other than basketball, he also has an undeniable love for the NFL and hence enjoys the following from both the major league sports. 
It is only a coincidence that he is trailing right behind his best teammate ever, the Black Mamba.
#3 Kobe Bryant – 20.8 Million 
The IG community paid tribute to Kobe Bryant's account by adding "Remembering" to his username. The last post that Kobe made before losing his life to a very unfortunate accident secured over 14 million likes and half a million comments. He was a heartwarming human being, an award-winning writer, a prolific producer, an intelligent investor, and a breathtaking basketball player. His ever-increasing following is living proof of his immortal legacy that will only grow in the coming ages.
Special mention- #23 Jumpman Jordan 
Now this one's interesting. This special mention or a wildcard entry coincidentally falls between #2 and #3, making it a #23. This is a Michael Jordan figure, and this is the official account of his Jordan brand, promoted by Nike. The six-time NBA champion and the GOAT Michael Jordan does not own a personal account, but this Jumpman handle keeps posting his throwbacks along with every new super-cool shoeline offering.
#2 Stephen Curry – 32.1Million
The Baby-faced Assassin shot to popularity after helping his side appear in five consecutive NBA Finals. His rivalry with LeBron James (Cavs) and that never-seen-before shooting capability made him a household name. Curry would dance after shooting from mid-court, he would play golf, and he would help the marginalized with his community service campaigns. This Warrior is everything that the entire world loves.
#1 LeBron James – 75.9 Million
ADVERTISEMENT
Article continues below this ad
The boy from Akron leads this list by such a margin that #5, #4, and #3 can not combine to form the kind of fandom he enjoys. This is not to compare the athletes as everyone is great at what they've got. This is just to explain how his influence in the sporting world is so heavily accepted. LeBron is still far behind the legends from other sports like Soccer (Lionel Messi – 173 Million), Cricket (Virat Kohli – 86.1 Million), but he is very certainly the undisputed king of the NBA. 
ADVERTISEMENT
Article continues below this ad
The other stars that briefly missed out on featuring on this list are Russell Westbrook (15.9 Million), James Harden (11.2 Million), and Chris Paul (10 Million). Do you like this list of rankings or you have your own ranking to give? Let us know your preferences in the comments.