'MVP of girl dads' An Year Since Vanessa Bryant Moved Everyone With Her Speech on Kobe Bryant's Memorial
Published 02/25/2021, 1:04 AM EST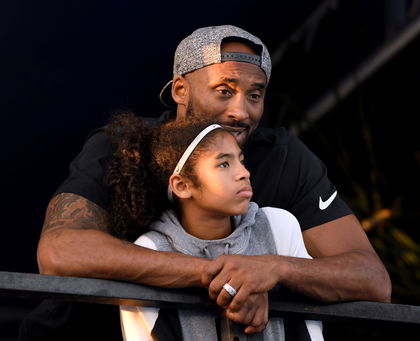 ---
---
It has been nearly thirteen months since the legendary Laker Kobe Bryant passed away. The Mamba certainly left an unprecedented impact on the league and its fans alike.
ADVERTISEMENT
Article continues below this ad
Exactly a year ago, the league had celebrated Kobe's legacy at the Staples Center. From Shaquille O'Neal to Michael Jordan, everyone spoke about how special Mamba was and the legacy he left.
But none of the speeches were as moving as his wife Vanessa Bryant's speech. Take a look at the part where Vanessa describes how close Kobe was to his daughters.
ADVERTISEMENT
Article continues below this ad
Vanessa Bryant describes how caring Kobe Bryant was a father
While Kobe might have dominated players on the court, he was as amazing as a father off the court. The 'Black Mamba' was the father to four children and was the focal point of the family.
Vanessa Bryant in her memorial speech opened up about what made Kobe Bryant a special dad. She said, "Kobe was the MVP of girl dads, or MVD. He never left the toilet seat up. He always told the girls how beautiful and smart they are."
"Kobe taught them how to be brave and how to keep pushing forward when things get tough. When Kobe retired from the NBA, he took over dropping off and picking up our girls from school since I was at home pregnant with Bianka and just recently home nursing Capri."
She shared a story from Kobe's playing days to emphasize how dedicated Kobe was for his daughters. Vanessa said, "When Kobe was still playing, I used to show up an hour early to be the first in line to pick up Natalia and Gianna from school, and I told him he couldn't drop the ball once he took over."
ADVERTISEMENT
Article continues below this ad
"He was late one time, and we most definitely let him know that I was never late. So he showed up one hour and 20 minutes early after that."
She also shared the infectious passion 'Mamba' had to coach his daughters and how did not force anyone to play basketball if they didn't want to. "He loved being Gianna's basketball coach. He told me he wished he would have convinced Natalia to play basketball so they could have spent more time together, and he also wanted her to pursue her own passion."
Vanessa capped off the speech with one of the most heartbreaking lines.
ADVERTISEMENT
Article continues below this ad
"God knew they couldn't be on this Earth without each other. He had to bring them home to have them together. Babe, you take care of our Gigi. I got Nati, BiBi and KoKo, and we're still the best team."