NASCAR Racer Kurt Busch Credits 'GOAT' Michael Jordan for Recent Kansas Cup Series Victory: "Thanks to Jordan Brand"
Published 05/16/2022, 1:30 PM EDT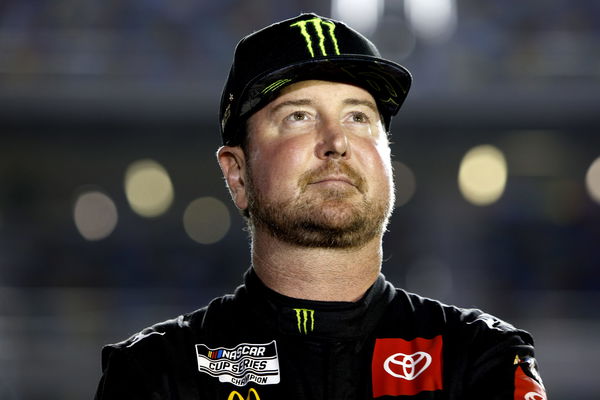 Kurt Busch expressed his admiration for team-owner and Bulls legend Michael Jordan after securing his first race-win for 23XI in the NASCAR Cup Series. The veteran driver defeated Kyle Larson and brother Kyle Busch to win his first-ever victory at Kansas Speedway after 33 attempts.
Busch dominated the race from the jump and led a race-high 116 laps to beat 'the Kyle and Kyle show' as the 43-year-old called Larson and Busch after the race.
However, the win didn't come easy for Busch. He had to overtake Larson with 8 laps to go to regain his lead.
ADVERTISEMENT
Article continues below this ad
Even though Busch's Toyota Camry TRD dominated the race, Larson had the superior car. Busch had to squeeze the current Cup Series champion into the wall to retake the lead. The maneuver was deemed fair.
Kurt Busch thanks team owner Michael Jordan
In the post-race interview, Busch revealed the source of inspiration behind his race-win. The greatest basketball player to ever live, Michael Jeffrey Jordan.
The 2004 NASCAR Cup Series champion said that he was proud to drive for the Jordan brand. And it provided extra motivation for him to perform well.
He said, "With Jordan brand on the hood, I mean I felt like I had to play like the GOAT, race like the GOAT."
"Thanks to Jordan brand", he added.
Michael Jordan is the majority owner of 23XI, with Joe Gibbs Racing driver Denny Hamlin owning minority shares. 23XI is the second sports team that Jordan owns along with the NBA franchise Charlotte Hornets.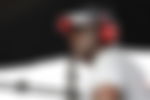 This win at Kansas will give him some solace after the Hornets were knocked out of playoff contention in the NBA this season.
First win for Kurt Busch in No. 45
This is the first win for car number 45 of the 23XI team, which Busch drives. His teammate Bubba Wallace had secured the team's first-ever win at Talladega last year.
ADVERTISEMENT
Article continues below this ad
Wallace finished 10th in this race. However, the Toyota cars dominated the race with all six of them finishing in the top 1o.
Watch this Story: Denny Hamlin Admits 23XI Racing Have Let Down an "Extremely Fast" and Down on His Luck Bubba Wallace
ADVERTISEMENT
Article continues below this ad
Busch thanked his brother and his family for the win. He ascribed the wonderful achievement to teamwork and expressed his gratitude for his hardworking crew members.
Kurt Busch has now bagged at least one win for four different car manufacturers. Another remarkable achievement for the NASCAR veteran.