NBA 2K21 Updated Rankings: Paul George Loses, Jimmy Butler Gains & More
Published 03/26/2021, 9:05 PM EDT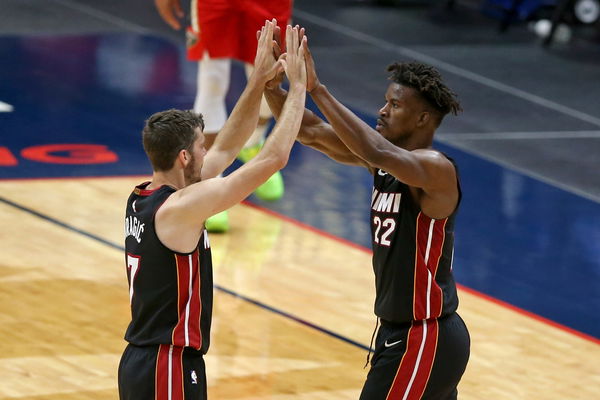 ---
---
The NBA 2K21 is a cult today, and it has gained importance ever since its launch in 1999. The Post-Michael Jordan era marked this simulation video game that rates the NBA players as per their on-court performance. Be it Lakers' LeBron James or Heat's Jimmy Butler, the athletes actively play the game and take pride in their rankings.
ADVERTISEMENT
Article continues below this ad
Most recently, there has been some stir in the NBA 2K rankings that has seen a few key players move up and others moving down. Take a look if one of your favorites has seen a plunge.
Jimmy Butler and others with a shocker?
ADVERTISEMENT
Article continues below this ad
In a fresh NBA 2K update, Miami Heat forward Jimmy Butler has gained a rating point and now stands tall at 91 points. Now, the timing might surprise a few people because the Heat are on a 5-game losing streak.
However, the NBA 2K ratings do not vary on a short-term basis and normally take into consideration the performance from 4 to 6 weeks (or even the past performance). As of now, Jimmy G. Buckets is averaging 21.3 points with career-high rebounds (7.9) assists (7.3), and field goal percentage (48.1%). All this, matched with his impact on Heat's winning, has contributed to the upgrade.
But it is not just Jimmy, even Knicks' Julius Randle has shown some improvement, touching 88 points. This is the 26-year-old's top rating and deservingly so.
The forward-center is averaging a double-double with career highs in points (23) and three-point shooting (42.3%). As a result, the Knicks are #5 in the EC, even ahead of the Heat.
Read Also – Xbox Game Pass for March Brings NBA 2K21 in Play Just in Time to Get Michael Jordan and LeBron James
How do the NBA 2K21 ratings work?
The NBA 2K ratings do not go up or down based on any bias or the instincts of the game developers. In fact, it is more scientific and algorithmic in nature.
The game considers around 50 parameters like outside scoring, Shot IQ, Athleticism, Inside Scoring, Playmaking, Intangibles, Potential, Morale, etc to weigh all the attributes.
The complex system would evaluate a playmaking defender differently than a defensive point guard. For example, Jimmy scores poorly in rebounding and inside scoring but manages a higher score elsewhere. He had his career-high 93 points during last year's NBA Finals run. Similarly, Julius Randle has 18 badges and mainly gains in outside scoring.
Apart from these names, the players like Russell Westbrook (Wizards) and Tobias Harris (Sixers) have also gained while others like Paul George lose. Take a look –
ADVERTISEMENT
Article continues below this ad
LeBron James still leads the rankings, with the Top 10 winding up with a minimum of 94 (Damian Lillard) in ratings. Still, Jimmy's breaking back into the Top 13 is a big update.
ADVERTISEMENT
Article continues below this ad
So what do you think, who are the other players that deserve an upsurge in their ratings? Help us know in the comments.