NBA All-Star Weekend 2021: Who is the Favorite to win the Slam Dunk Contest?
Published 03/03/2021, 4:00 PM EST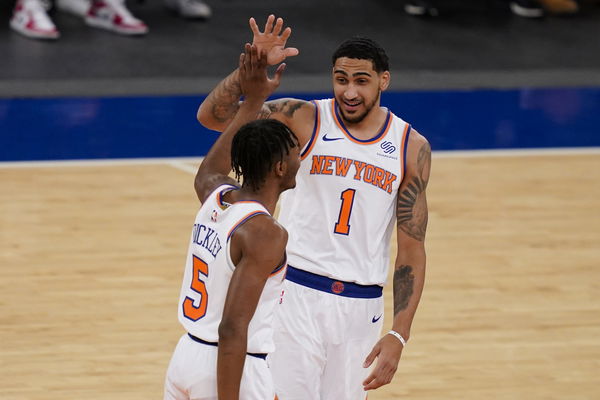 ---
---
The 2021 NBA All-Star weekend in Atlanta will be unlike any other year due to COVID-19 restrictions. However, fans will still be treated to the Slam Dunk contest among others, and this year's lineup is a young, yet fierce one! 
ADVERTISEMENT
Article continues below this ad
The Slam Dunk contest usually headlines the other events like the skill challenge and the three-point contest on an All-Star Saturday, but this time, the league is finishing everything on a Sunday. 
Vital information about the 2021 Slam-Dunk contest at NBA All-Star Weekend
ADVERTISEMENT
Article continues below this ad
When is the event: Sunday, March 7 | Will take place during half-time of All-Star game
TV Broadcast: All-Star game coverage begins at 6:30 PM ET on TNT
Participants: Anfernee Simons (Blazers), Cassius Stanley (Pacers), Obi Toppin (Knicks)
The 2021 Slam Dunk contest features two rookies, but the participating trio are all making their contest debut. A notable name who declined the invitation to participate was New Orleans Pelicans' Zion Williamson. 
We all know what Zion could do at the rim, and it would've been a treat to watch him perform spectacular dunks at the All-Star weekend.
Furthermore, the league has also named the judging panel for the Slam Dunk contest and it includes five former champions of this event. Here's the excerpt from NBA's official website about the judges: 
Dominique Wilkins (1985 and 1990 champion), Dee Brown (1991), Jason Richardson (2002 and 2003), Josh Smith (2005), and Spud Webb (1986).
Who should you put your money on at the Slam Dunk contest?
All three participants are first-timers. The event will take place similar to last year's format with the top two dunkers advancing to the second round. Now, we predict Cassius Stanley and Obi Toppin to be the finalists and there's a reason for it. 
ADVERTISEMENT
Article continues below this ad
Stanley recorded a 44-inch vertical leap at the 2020 NBA Draft combine, which is tied for the third-highest mark since 2000. Hence, one can expect him to put on a show on March 7.
On the other hand, Knicks' Obi Toppin is the favorite to win the contest due to his well-built six-foot-nine frame. Furthermore, Toppin led the nation in dunks as a sophomore in college, so it is pretty clear that he is capable of making high-flying dunks. 
Our money is on the Knicks rookie to win the Slam Dunk contest. What's your prediction?
ADVERTISEMENT
Article continues below this ad