NBA Analyst Makes Insane Scenario Suggesting Lakers to Exchange Russell Westbrook With Ben Simmons Over Kyrie Irving
Published 05/30/2022, 11:26 PM EDT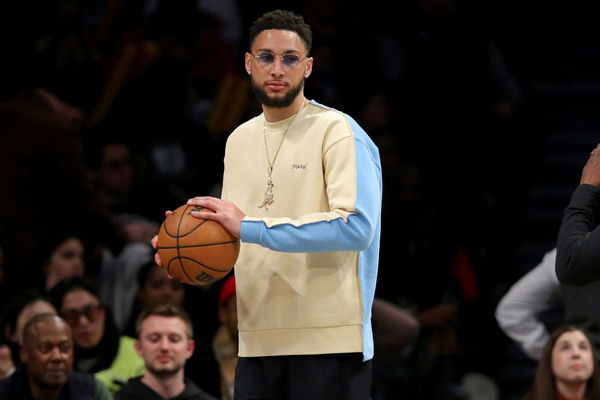 Change is in order for the city of Los Angeles. Their team, the Los Angeles Lakers, had a season to forget. Going through one of their worst regular seasons, the purple and gold clearly had some flaws. And they are slowly making things right. After making the crucial coach for a new head coach by signing Darvin Ham, the organization is looking ahead.
With Russell Westbrook's poor season, they are all in to trade him out. However, while there have been hot talks over Kyrie Irving, NBA analyst Nick Wright proposed a different Nets player in a deal for Brodie.
ADVERTISEMENT
Article continues below this ad
After his abysmal season in his own hometown, Los Angeles has lost hope in Westbrook. The former MVP came in as a superstar addition to the roster. However, in a situation the Lakers surely didn't see coming, Russ came up majorly short. With a season full of injuries and uncertainties for the Lake show, Westbrook had a rough patch. Putting up some of the worst numbers of his career, Brodie didn't have any memory to hold on. Hence, rumors of a potential Kyrie Irving trade are running high.
WATCH THIS STORY–5 best Memes on Chris Paul Choking Yet Again in the NBA Playoffs
However, Wright believes the Lakers could take a different approach by targeting Ben Simmons rather than KAI.
Wright wants Ben Simmons in a Lakers jersey?
With Irving providing the answer to all of Russ' weaknesses, the trade for him always looks sensible. Given his uncertainties when it comes to playing, the Nets will be begging for a star who can be consistent. In addition, Westbrook even played a good chunk of his career with Kevin Durant. Hence, the exchange between these two point guards is always on the table.
However, Wright took a surprising approach and painted a scenario where Simmons lands in LA. Suggesting a deal involving the Pacers as well, Wright believes the Lakers could land Simmons by sending Westbrook to Indiana along with giving up a few picks.
He said: "What about a different trade for a Net, that hasn't actually played for the Nets. Rumor is he always wanted to be in Los Angeles. We don't know if he will ever play for the Nets. And maybe it's a three-way trade and maybe the Nets do re-up Kyrie, and they say you know what, we are not comfortable having long-term deals in place for Kyrie and Ben Simmons. Two gigantic wildcards. Is there some type of Ben Simmons for Russell Westbrook and some picks out there?"
ADVERTISEMENT
Article continues below this ad
Simmons hasn't played basketball the entire season. Either mental issues or injury, Simmons wasn't able to suit up for the Nets. But that doesn't take away from his skillset. He is one of the best on-ball defenders in the entire NBA, something the Lakers desperately need. In addition, with him always wanting to play for LA, the Lakers could expect a much more dedicated Ben Simmons.
Still providing the playmaking combined with a dominant defense, the Lakers could hugely benefit with Simmons in their lineup. However, that lives a huge hole in the shooting department because Simmons falls short even to Russ.
ADVERTISEMENT
Article continues below this ad
At the end of the day, it comes down to both the team to make a final call. Both had an embarrassing run this season and are desperate to right the wrongs. As two of the best players in the league, the rivalry between LeBron James and Kevin Durant could see another chapter if the Nets and Lakers hit the jackpot. Do you think the purple and gold can pull off this trade? Let us know in the comments below.
Edited By: Arunaditya Aima