NBA Analyst Ranks Giannis Antetokounmpo Over Steph Curry, Kawhi Leonard and James Harden
Published 07/10/2021, 4:58 PM EDT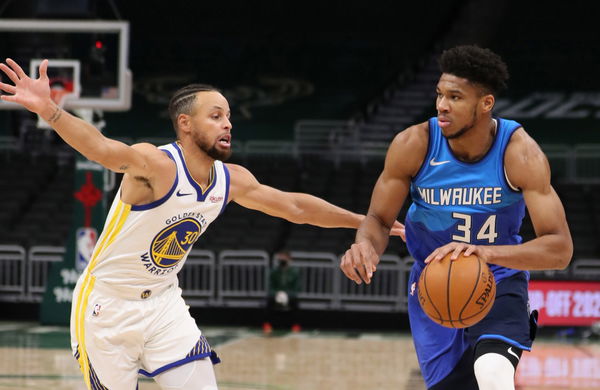 ---
---
Giannis Antetokounmpo has been in sublime form this post-season. The Greek Freak, with support from his running mates in Middleton and Holiday, has led Milwaukee to the NBA Finals for the first time since 1974. While Antetokounmpo has flamed out in the Playoffs before, this season has been a welcome sight for Bucks fans.
ADVERTISEMENT
Article continues below this ad
In fact, if Giannis were to win this championship, it would place the 2-time MVP and DPOY in some elite company. A title for the Greek Freak would include him on a list along with just 11 other players who have won multiple MVPs and a title in NBA history. A title this season would also mean that he would win a ring at an age younger than Michael Jordan and LeBron James!
"If the Bucks win the title, Giannis would have his ring younger than Michael, younger than LeBron. He would be 26 years old and accomplished, quite literally, everything an NBA player can accomplish." — @getnickwright pic.twitter.com/DLnkffd5Vb

— First Things First (@FTFonFS1) July 6, 2021
ADVERTISEMENT
Article continues below this ad
Can Giannis wheel Milwaukee to the promised land?
While Giannis has the chance to make history, it will be a gargantuan task. While the Bucks find themselves in a 2-0 deficit, the upside is that they are finally heading home! And come 7pm on Sunday night, Fiserv Forum will give the Bucks the energy to respond!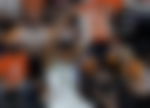 Although, a lot will be asked of Giannis, who is averaging 28.5ppg/12.1rpf/5.1apg in these Playoffs. But then again, a franchise doesn't pay over $200M for regular-season wins!
The Greek Freak is averaging 31.0ppg/14.5rpg/4apg a game, and yet seeds of doubt over his evolution since the last Playoffs continues to date.
While his raw physical ability, combined with his defensive prowess covers up the lack of a mid-range game and poor FT shooting, analysts tend to circle back to focus on the latter.
Is Giannis Antetokounmpo a Top-3 player in the NBA?
FS1 analyst Nick Wright recently made a valid case for Antetokounmpo's position amongst the top players in the NBA. But, the argument for Giannis as a Rop-3 player is debatable at best, especially since he supposedly outranks bonafide superstars like Steph Curry, Kawhi Leonard, and James Harden!
"Giannis is without question at this point, one of the 3 best players in basketball: LeBron, Durant, Giannis. We can argue about the order, but that's unquestionably the top of the NBA pyramid right now."

— @getnickwright pic.twitter.com/WewZX2Pl6X

— First Things First (@FTFonFS1) July 9, 2021
Kawhi Leonard, while being one of the best defensive players of the past decade and DPOY, is an offensive threat from any angle/space on the floor.
Kawhi is a mid-range killer, who also possesses a potent 3-pt shot, shooting at approximately 40% from beyond the arc. The 2-time FMVP has also showcased his ability to take over in the clutch and lead from the front as seen previously in the title run with Toronto, where he beat Giannis himself.
Coming to James Harden, 1-time MVP, is one of the most prolific scorers of the modern-day era. The Beard is an offensive weapon who has won multiple scoring titles, especially when he averaged 36.1ppg in his MVP season!
Harden's isolation game makes him an elite weapon. And while he has failed to show up in the Playoffs, his role with Brooklyn might see him win his 1st ring.
Lastly, Stephen Curry, a 2-time league MVP, is the greatest shooter who ever lived! Steph's numbers from beyond the arc have been staggering. Curry is also part of the 11-player list with multiple MVPs and titles, as he led a Golden State dynasty to 3 titles in 5 years.
Curry revolutionized the game with his perimeter play, and also is a nightmare to guard just like James Harden. He also carried the Warriors this season, as he won the scoring title sniping at 32.0ppg while shooting it at over 42.3% from the 3-pt range.
The NBA pyramid
Going into the next season, there is no doubt that the journey to the top of the pyramid will be a bloodbath. While LeBron James and Kevin Durant are unrivaled in terms of dominance, spots in the Top-5 are still up for grabs.
ADVERTISEMENT
Article continues below this ad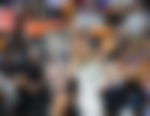 While Giannis still has a long way to go before catching up to the King, KD, or Steph, he would surpass Harden and others like Embiid and Anthony Davis if he were to deliver a championship to Milwaukee this season!
Will Antetokounmpo be able to carry his team home? Or will Phoenix end Milwaukee's season in quick fashion? Game 3, next.
ADVERTISEMENT
Article continues below this ad
Watch this story – Brooklyn Nets vs Milwaukee Bucks Game 7 WCSF Highlights