NBA Analyst Skip Bayless' New Contract Has Him Earning More than Some of the NBA Players
Published 03/05/2021, 12:13 AM EST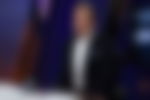 ---
---
The name Skip Bayless is familiar to everyone who watches debates after an interesting matchup. However, Bayless is infamous for his jaded opinions about LeBron James.
ADVERTISEMENT
Article continues below this ad
In fact, he brutally bashed the Miami Heat as well, despite their incredible journey to the NBA Finals. But none of these are the reasons behind the sudden spurt in his popularity.
It's actually because he just signed a lucrative contract with FOX Sports. The fact that this NBA Analyst earns more than some NBA players is something that a lot of people are having trouble accepting.
ADVERTISEMENT
Article continues below this ad
NBA analyst to earn more than Steph Curry and Donovan Mitchell?
Bayless, alongside Stephen A. Smith, was the face of the Embrace Debate at ESPN. Both Skip and Stephen A. are known to be very vocal about their opinions and have often drawn plenty of criticism for the same.
However, Skip's career slowly parlayed into becoming the face of 'Undisputed', FOX Sports' early morning program, and this time, his partner in crime was Shannon Sharpe.
Although this 'debate' often travels down the heavily trodden road of a LeBron fan vs. hater debate, it gave the audience so much content.
Initially, Skip's contract was worth $6 million and when his contract expired in September, there was a lot of speculation around where Skip will end up next. However, it looks like he won't be jumping ship anytime soon.
Bayless has just signed a 4-year deal with FOX Sports, worth $32 million. So, any hopes of ESPN wanting to bring him back with Smith have been crushed. More than anything, his new salary has people going crazy because he will now earn more than a legion of NBA players.
Here are the NBA players Skip Bayless reportedly now makes more money than https://t.co/uHp77DXtLa

— Dime (@DimeUPROXX) March 4, 2021
ADVERTISEMENT
Article continues below this ad
More than two of Miami Heat players
Bayless has always called himself a San Antonio Spurs fan. This, in Skip's language, means that all other teams should be hated on. One of those franchises that have had to face his discontent are the Miami Heat. Not only last year, but also when LeBron James played for them, for obvious reasons.
However, the 69-year-old is going to be earning more than two of the current Miami Heat players. Skip's worth per year is $8 million, which is $4.2 million more than that of Tyler Herro and $2.9 million more what Bam Adebayo brings home.
ADVERTISEMENT
Article continues below this ad
This only means one thing. Let's get prepared for some more of Skip Bayless's hard-hitting and controversial points for the next 4 years at the least.