NBA Commissioner Adam Silver Hits Back at LeBron James' Comments on All-Star Game's Timing
Published 03/07/2021, 12:56 AM EST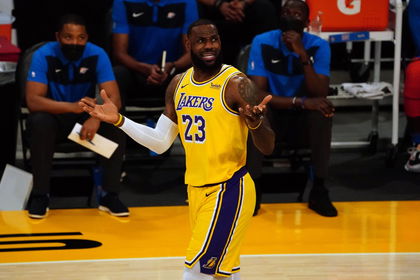 ---
---
The NBA All-Star 2021 Game seems more about business and less about giving the best-chosen players a platform to compete. This, because the game is already marred with many key players dropping out because of injuries that can be the result of a short season break and less time to rest. Lakers' LeBron James is one unhappy man because of all the circus.
ADVERTISEMENT
Article continues below this ad
Even before the voting for the All-stars began, it was sure that King James would top the popularity index. However, into his 18th season, that mattered less to the 4-time champion who vocally spoke against the idea of holding the event.
NBA Commissioner has responded to LeBron James
ADVERTISEMENT
Article continues below this ad
Recently, in an interview, the much-respected NBA Commissioner first put a full-stop on the idea of a possible Kobe Bryant logo. Then, he pressed on the fact that he sympathizes with LeBron James and respects his opinion on looking at the All-Star game announcement as a "slap in the face". 
The 58-YO expressed, "We're all part of a community. I respect him and his point of view. Also, at the same time, I appreciate his professionalism… My sense is he's going to be here, as he always is, as a top-notch professional and engaged in the game. Again, I respect his point of view, but it seems like issues that can be worked out in the family, so to speak."
He even praised King James' witty way of drafting his teammates for his All-Star team. Take a look –
LeBron James was critical of the All-Star Game. Commissioner Adam Silver says he respects the Lakers star's opinion and the professionalism with which he conducted the All-Star draft. pic.twitter.com/L0P3J0QJOF

— USA TODAY Sports (@usatodaysports) March 6, 2021
Clearly, Adam Silver has no intention to irritate one of the most important family members, but the business angle keeps his hands tied.
Read Also – 'I Blame You, LeBron James': Hollywood Actor Fumes Over the Lack of Participation at 2021 Slam Dunk Contest
What had Bron said earlier?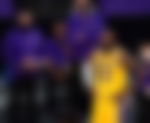 Miami Heat and Los Angeles Lakers were the two teams entering the 2020-21 season with the shortest possible break of just 71 days. As a result, Jimmy Butler has already missed so many games that his team ended in losses.
Plus, the Lakers are already short of Anthony Davis because of his Achilles' injury. Now, one can not directly connect these injuries with the small break, but that definitely added to the woes. 
ADVERTISEMENT
Article continues below this ad
Also, coming into the season, the players were promised no All-star game, which suddenly changed. This can be the NBA's way of improving their bottom-line but not many players initially welcomed it. First, Clippers' Kawhi Leonard spoke against it, and then LeBron himself. 
In a February interview, Bron had said, "I have zero energy and zero excitement about an All-Star Game this year. I don't understand why we're even having an All-Star Game."
While Adam Silver might suggest that they're doing this solely for the fans, it is clear that they had ignored the players' opinion.
ADVERTISEMENT
Article continues below this ad
Do you think it was a good decision to hold the All-Star showcase this year? Help us know your opinion in the comments.