NBA Commissioner Adam Silver Makes Surprising Appearance in Nuggets Team Meeting To Crown Nikola Jokic as MVP
Published 06/08/2021, 11:00 PM EDT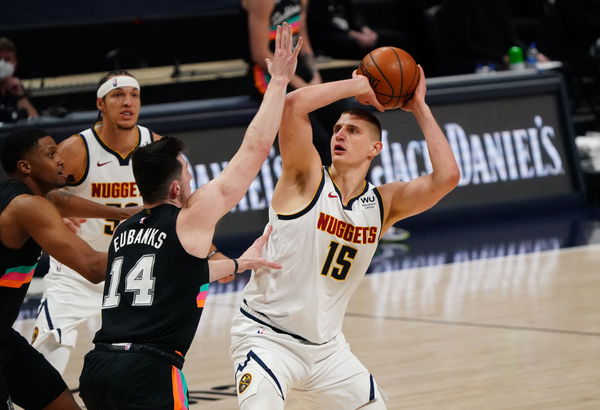 ---
---
Nikola Jokic made franchise history after being the first player of the Denver Nuggets to be awarded the NBA's 202-21 MVP trophy. Jokic's numbers this season have been monstrous, and he had been leading the MVP race for a while. Although his victory was foreseen, how the superstar received the news was quite dramatic, and this was thanks to the commissioner of the NBA, Adam Silver.
ADVERTISEMENT
Article continues below this ad
Nikola Jokic rightfully gets the MVP award
The Denver Nuggets have become one of the most popular teams in the league right now. They started to gain relevance after they came back from two 3-1 deficits against elite teams and reached the Western Conference Finals last year. Although they were kicked out by the Lakers at that time, it was clear that nobody was going to take them lightly again.
ADVERTISEMENT
Article continues below this ad
Jokic has put up incredible numbers this season. Almost going for a triple-double, Nikola averaged 26.4 points, 10.8 rebounds, and 8.3 assists. Being the 41st overall draft pick in 2014, he has also become the lowest pick to win the MVP. So how did Jokic receive this celebratory news?
The Denver Nuggets were having a team meeting and Adam Silver interrupted it virtually to announce Jokic's achievement. The team was thrilled to have the Joker declared as the rightful owner of this year's MVP. However, Nikola refused to take all the credit. He confessed to his team and said, "This may be an individual award, but I couldn't have done it without you. It's my trophy but you guys are a big part of it."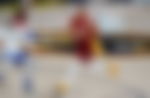 What margin did Jokic win by?
Jokic had some tough competitors to beat this season. Right behind him in the MVP race were Joel Embiid, Stephen Curry, Giannis Antetokounmpo, Chris Paul, Luka Doncic, and even Damian Lillard.
ADVERTISEMENT
Article continues below this ad
However, the result was clear cut. The Joker ended up with 91 first-place votes out of 101. Now that this award result has been handed out, the Nuggets will be focusing on getting past the Phoenix Suns. What's for sure is that this won't be a one-sided show, and there will be a tug of war to go to the next round.
ADVERTISEMENT
Article continues below this ad
Down by 1 game in the series, Jokic will have to show some magic to make a comeback. Will fans be witnessing another historic Nuggets' upset? Or will the Suns show them why they're the second-seeded team in the West?
WATCH THIS STORY: Injuries That James Harden Has Powered Through Over The Years of his Career