NBA Draft 2021: Should the Detroit Pistons Trade Down and Avoid Picking Cade Cunningham?
Published 07/19/2021, 12:03 PM EDT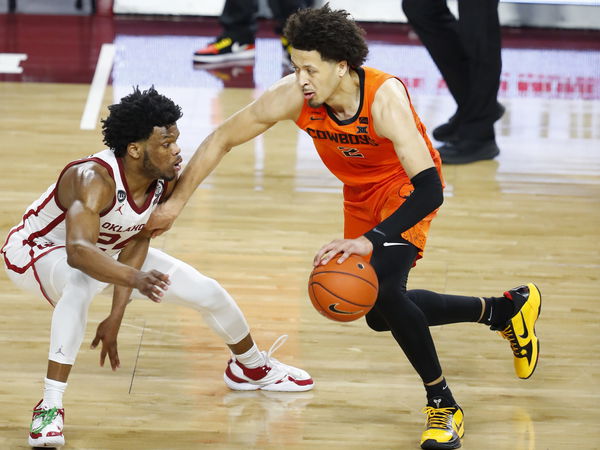 ---
---
The NBA Draft 2021 is only a week or two away and given how stacked this class is, this draft is a must-watch. One of the biggest names in the draft class is Cade Cunningham.
ADVERTISEMENT
Article continues below this ad
The Oklahoma State guard who is coming off of an incredible season, is a highly touted prospect and is the consensus number 1 pick in the upcoming draft. Detroit Pistons who have the first pick in this stacked draft surely have a tricky situation in their hands.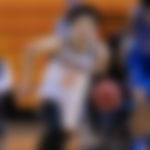 ADVERTISEMENT
Article continues below this ad
Given that they have multiple young guards like Killian Hayes and Saddiq Bey in their lineup, should the Pistons trade down and avoid picking another guard in Cade Cunningham?
Cade Cunningham strengths and weaknesses
Cunningham is truly one of a kind prospect in the 2021 draft class. Standing at 6'8″ with a wingspan of 7'1″, Cunningham is a versatile guard. Given how the league is progressing, a point guard of the 19-year-old's size is a welcome addition.
Playing for Oklahoma State, Cunningham was a one-man offense for the team. The 6'8″ guard has multiple tricks upon his sleeve. With his massive frame, Cunningham can easily get to the rim and has a smooth finish as well.
The 20-year-old is also capable of hitting step back jumpers despite being heavily guarded. While his jumper was at question when he entered Oklahoma State, in his only collegiate season, Cunningham shot 40% from the three point line.
The Big 12 Player of The Year also has a very good mid-range jumper which is pretty rare in rookies. Given his size, Cunningham has immense potential as a defender and averaged 0.8 blocks and 1.6 steals per game.
Cunningham is an incredible all-round player and for a 19-year-old is pretty polished. The only probable downside to his game is the lack of explosive athleticism and how prone he is in turnovers.
His assists to turnover ratio was also negative, which might be a cause of concern if a team wants him to be their primary ball-handler. The 19-year-old is an incredible prospect and missing out on him, might be a big risk for any team.
WATCH STORY HERE – Injuries That James Harden Has Powered Through Over The Years of his Career
How can the Pistons use Cunningham if they select him in NBA Draft 2021?
The Pistons are a team who are in a rebuilding stage. With players like Killian Hayes, Sadiq Bey and Isiah Stewart, the Pistons have a great core of superb young players. While Hayes might have disappointed as a lottery pick, he is an excellent perimeter defender and an able shot creator.
Saddiq Bey on the other hand has been a revelation for the Pistons. Shooting more than 38% from the perimeter, Bey solidified his status as a superb shooter and made it the all-rookie team as well.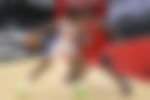 Isiah Stewart similarly had a decent season. Stepping in as a backup center, Stewart showed his true potential in the last 16 games he played where he almost averaged a double-double with around 2 blocks per game.
ADVERTISEMENT
Article continues below this ad
While the trio of Hayes, Stewart and Bey are impressive, none of them are a certified scorer. Cunningham certainly fits the billing for the Pistons here. Given that their veteran guard Wayne Ellington is a free agent, Detroit can easily slot in the 19-year-old into the starting lineup.
The Pistons already are seeing an incredible jump from Jerami Grant and the addition of Cade Cunningham, adds yet another scorer to the side and improves the overall quality of the team.
ADVERTISEMENT
Article continues below this ad
The last time Detroit had a top three draft, they missed out on superstars like Carmelo Anthony and Dwyane Wade. Given how rare a number 1 draft pick is, the Pistons need to be sure of getting the best player available and it is undoubtedly Cade Cunningham. Will the Pistons sign the Oklahoma State guard in the NBA Draft 2021 or will they opt for a trade and choose some other player?
Trending Stories