NBA Fans Bring Up Iconic TV Show Moment Involving Shaquille O'Neal As Stephen Curry Gets Tripped on Court vs Mavs in WCF Game 3
Published 05/22/2022, 11:15 PM EDT

Follow Us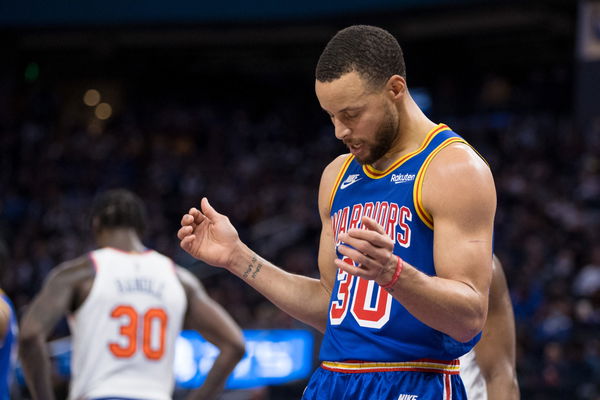 Dallas is all intense as Game 3 of the Western Conference Finals takes place between the Golden State Warriors and the Dallas Mavericks. In a series dominated by the Bay, Dallas is looking to get some momentum. And it seems the Dallas staff is also playing a part. Stephen Curry tripped over one of the concession workers in the 2nd quarter. While it was a huge scare, NBA Twitter worked its magic and compared it to an iconic moment of Shaquille O'Neal.
Shaq has been a part of quite a few acting roles throughout his career. Doing movies such as 'Uncle Drew', 'Grown Ups 2' and 'Kazaam', Big Diesel is a huge hit in comedies. Likewise, living up to his reputation, he did a comedy scene in the American sitcom, 'Curb Your Enthusiasm'. His iconic moment on the TV series has stuck with the fans to this day.
ADVERTISEMENT
Article continues below this ad
And Curry's fall against the Mavericks reminded them of the Shaq's brilliant acting job.
WATCH THIS STORY – 5 best Memes on Chris Paul Choking Yet Again in the NBA Playoffs
Fans are reminded of  a funny Shaq scene after Stephen Curry falls
During the height of his career, the Big Diesel was featured in 'Curb Your Enthusiasm' in an episode titled Shaq. In episode 8 of the second season, the main characters check into a Lakers game with courtside tickets. Then in an epic moment of acting brilliance, O'Neal tripped over Larry's foot and badly injured his knee. Even to this day, fans regard this as one of Shaq's finest acting jobs. He even went on to win his third successive championship following episode, Years later, the Big Aristotle even said that his fall on the show was real.
ADVERTISEMENT
Article continues below this ad
Likewise, Curry's fall was similar looking to Shaq's. But to his luck, Steph did not come out injured as he looks to fire the Warriors one step closer to the NBA finals.
Coming into the playoffs, the Warriors had a huge problem on their hands. Their Baby Face Assassin was injured after an incident with Marcus Smart. His participation was in doubt, but Curry powered through. He came in off the bench in a new role and gave life to the Warriors' offense. Gradually, he regained his starting role and has been on fire ever since.
ADVERTISEMENT
Article continues below this ad
Checking into his 8th career playoffs, the Chef has been cooking. He has averaged 26.8 points, 5.5 assists, and 5.1 rebounds all while shooting 45% from the field. Step's offensive consistency has led the Warriors to be just 2 games off another finals appearance this season. The Bay is undoubtedly feeling good about their chances as Curry experiences a great run. Do you think the Baby Face Assassin will get the job done? Let us know in the comments below.