NBA Finals 2021: LeBron James Picks His Winner in Milwaukee Bucks vs Phoenix Suns Series
Published 07/12/2021, 11:08 AM EDT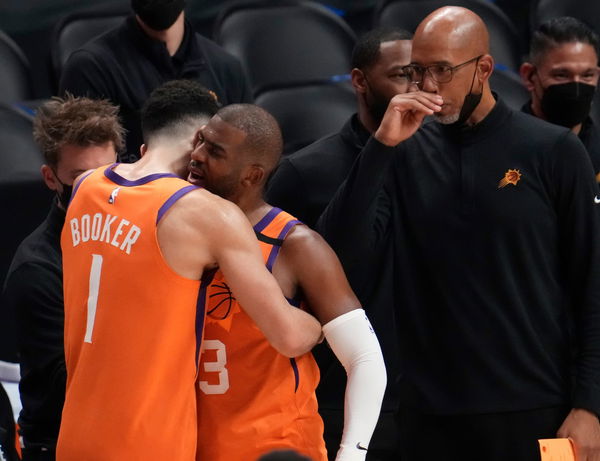 ---
---
The 2020-21 NBA post-season has been one for the ages. The NBA Finals for the first time in over a decade is witnessing teams without LeBron James, Steph Curry, or Kevin Durant lock horns to win it all. Both the Suns and Bucks match up well in terms of roster composition, and hence, the result will be a question of "Who wants it more?"
ADVERTISEMENT
Article continues below this ad
While Phoenix defended home court with a commanding 2-0 lead, Milwaukee finally drew blood with a win in Game 3. Now, the Bucks will look to even the series at the Fiserv Forum on Wednesday night. While a title this season would seal veteran Chris Paul's spot as a Top-5 PG, a title for Antetokounmpo will launch the 2-time MVP into a whole new league!
ADVERTISEMENT
Article continues below this ad
With Chris Paul on the precipice of his first NBA title, King James, one of his closest friends has picked sides.
LeBron James has boarded the Phoenix Express
LeBron, who is no stranger to the immense pressure and the emotional roller-coaster ride of the NBA Finals recently commented on the underlying emotions in both camps.
And even though the Phoenix Suns handed LeBron the 1st first-round exit of his career, some bonds are just bigger than sport! James, since Paul clinched the western conference in Game 6 against the Clippers, has been vociferous in his support for the Point God.
In a recent interview with ABC, James voiced his opinion on how he thinks the series will swing – "Lot of emotion, lot of jitters, lot of sleepless nights. I'm excited for my dear friend, my good friend, my brother Chris Paul, his 1st finals appearance in 16 years. It's gonna be fun for the city of Phoenix, and the city of Milwaukee, and in the end for basketball fans all over. But I would give the slighter edge to Phoenix because they're just more healthy."
The Stakes are too high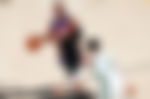 While most analysts have predicted the Suns to win in 6 games, a lot will depend on the all-important Game 4, as Phoenix will look to split on the road.
But, it will be no straightforward task for Paul, who is currently averaging 19.2ppg/8.7apg, shooting it at 50% from the field in these playoffs. The Milwaukee Bucks found their mojo last night, as they looked rejuvenated playing at home.
ADVERTISEMENT
Article continues below this ad
And with the Greek Freak on a Mamba mission to win his 1st title, Chris Paul will have to find that extra bit of oomph to power the Suns through in a hostile Fiserv Forum in Game 4. With the series now hanging by a knife-edge, will it yet again unfold as a story of "so close, but yet so far" for Chris Paul?
Game 4, next!
ADVERTISEMENT
Article continues below this ad
Watch this story – Stephen Curry-LeBron James, Giannis Antetokounmpo-Stephen Curry & More Duos Fans Hope To See In The Future