NBA GMs Predict Charlotte Hornets' LaMelo Ball to Win Rookie of the Year Award
Published 12/21/2020, 11:29 AM EST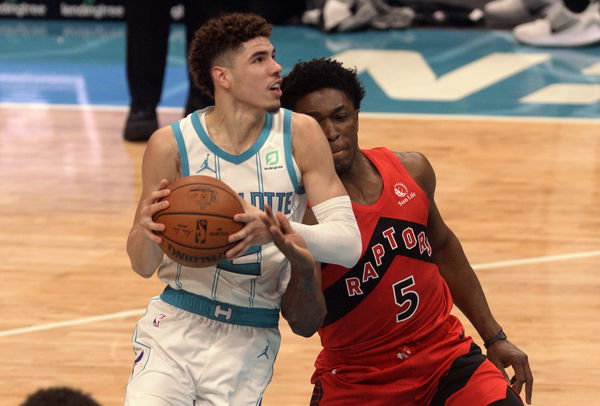 ---
---
LaMelo Ball is one of the hottest prospects in basketball right now. One of the main reasons behind it might be the last name he bears. The Ball family are basically entrenched in the NBA right now. While LaVar Ball may not have any credentials, the fact that he has raised three sons that have gotten NBA contracts is unbelievable.
ADVERTISEMENT
Article continues below this ad
However, LaMelo may be the most talented out of the three. While Lonzo Ball was a highly touted pick on his own, LaMelo's game is more suited for the modern NBA. Coupled with him being drafted to a pitiful Charlotte Hornets franchise, he has an opportunity to put up big numbers from the start as the team's primary ball-handler.
The 2020-21 GM survey has been released by the NBA 🍿

◾️ Most likely to win MVP: Giannis 3-peats
◾️ Best offseason moves: Lakers
◾️ Player to start a franchise with today: Luka or Giannis
◾️ Most likely to win ROY: LaMelo Ball pic.twitter.com/UZbsgrS98A

— Bleacher Report (@BleacherReport) December 18, 2020
ADVERTISEMENT
Article continues below this ad
NBA GMs understand the value LaMelo brings, and have thus predicted him to be the Rookie of the Year for this season. He received 39% of the vote in the 19th Annual NBA GM Survey.
James Wiseman of the Golden State Warriors came in second, with 29% of the vote. Third place was surprising Obi Toppin from the New York Knicks with 18% of the vote. The number one pick came in fourth, as Anthony Edwards of the Minnesota Timberwolves got 7% of the vote.
LaMelo Ball: Already a shoo-in?
ADVERTISEMENT
Article continues below this ad
There are many factors that go into picking LaMelo Ball for a spot like this. The two players that were drafted ahead of him are in different situations. Minnesota already has D'Angelo Russel and Karl-Anthony Towns as the primary offensive options. Along with that, Edwards still has a very raw game that needs to be developed.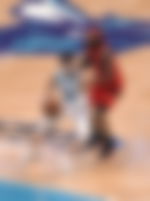 James Wiseman is joining the Warriors, a team that will definitely have a few players ahead of him in the pecking order. He will have a very defined role, so may not have opportunities to build a ROTY resume.
ADVERTISEMENT
Article continues below this ad
LaMelo may be sharing the ball with Terry Rozier and Devonte Graham, but he is the guy for Charlotte. He has shown glimpses of that in pre-season, and there is understandably a lot of palpable excitement around his style of play and skill-set.