NBA Hall of Famer Gary Payton Rubbishes Brooklyn Nets Comparisons With 2004 Lakers
Published 04/21/2021, 4:30 PM EDT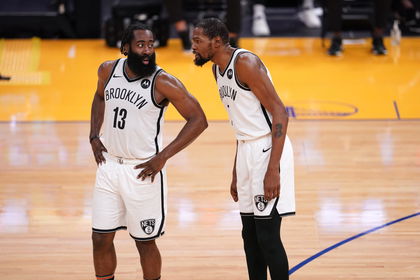 ---
---
The Brooklyn Nets have, this season, assembled one of the most talented teams the NBA has ever seen. While the league has historically seen multiple big threes, the Nets took it a step further.
ADVERTISEMENT
Article continues below this ad
Alongside the big three of James Harden, Kyrie Irving and Kevin Durant, the Nets added former All-Star Blake Griffin. With these four supremely talented athletes, the Nets have a combined total of 33 All-Star appearances.
The only team who were as stacked as the Nets in recent history were the 2003-04 Los Angeles Lakers, with four Hall of Famers in Shaquille O'Neal, Kobe Bryant, Gary Payton, and Karl Malone.
ADVERTISEMENT
Article continues below this ad
Gary Payton speaks about Brooklyn Nets being compared to the Lakers
Naturally, the Nets are being compared to the 2003-04 Lakers. One of the Lakers' biggest stars and Hall of Famer Gary Payton recently spoke about the same. In an interview with NBA insider Scoop B Robinson, 'the Glove' explained why the Nets cannot be compared with his team.
ADVERTISEMENT
Article continues below this ad
"You can't compare us in in 2004 to this team here. You can't do that because we're different players with different style, different era of basketball, this basketball going up and down.
"They're more outgoing, they shoot threes, everybody has opportunity. You got things that's way different, rules have changed. We don't play defense the same way we don't play a lot of stuff the same way. It's all different and I think now that the Brooklyn lose Aldridge it might be come down now.
ADVERTISEMENT
Article continues below this ad
He added, "I don't compare teams. They can't compare us. They can call themselves the super team all you want to, I thought our team was just a good basketball team with four good basketball players, Hall of Famers, which is good. When they can come with all four Hall of Famers like we did, then you could consider whatever you want to in the years to come, but right now ours was great."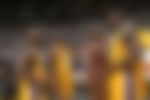 The 2003-04 had the biggest names, undoubtedly, but both Payton and Malone were in the latter part of their careers. After being in multiple finals and not winning a single championship, both veterans joined the defending champions. But unfortunately a hard-nosed Pistons team defeated the Lakers in the 2004 Finals.
The Nets have to be wary of the challengers they have. If the Nets are not careful, they might just become another super-team who failed to win a title.