NBA Insider Details the Conversation Between Nets' Steve Nash and James Harden Regarding His Return
Published 04/15/2021, 12:30 AM EDT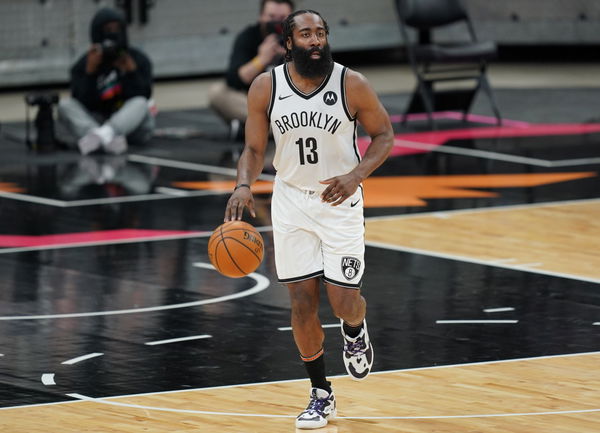 ---
---
The shorthanded Brooklyn Nets lost a very important matchup. However, the Philadelphia 76ers didn't have it easy even as they played a short-handed Nets. The stakes were high for this game as the winner would ascend to the Eastern Conference throne, breaking the tie. And with a 123-117 win, the Sixers became the undisputed leaders of the east. However, it's important to note that the Nets were missing four of their five best players, one of them being James Harden.
ADVERTISEMENT
Article continues below this ad
Harden has been vital in the Nets' success throughout. With Kevin Durant being sidelined for most games, Harden held the fort with Kyrie Irving. However, we are yet to see the entire super-team play together. So, when is Harden finally returning?
James Harden might miss more games?
ADVERTISEMENT
Article continues below this ad
After a strain on the left hamstring, Harden was initially announced to be reevaluated in approximately ten days. As per Malika Andrews, that duration ends this Friday. However, she also revealed the next few steps in bringing Harden back to the lineup.
"He stayed back from this road trip, to get work down and get into the practice facility. Get those workouts in and get the treatment," stated Andrews. "And before this trip, I was told that he was doing well, he is progressing. This is something they're having to be patient and careful with him because James Harden is a player who wants to be out on the floor as much as he possibly can"
Revealing her conversation with Steve Nash, she said, "The conversation he had with James Harden was that, 'Look, we need to be mature about this injury. We have goals to go deep into the postseason. So, you can't get nasty toward the end when we're saying you might have to miss a game or two more than we thought you initially would. We want you to be healthy for the duration."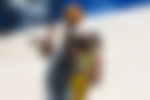 While this isn't ideal, the Nets know that bringing Harden back slowly is the best way to go. If they rush anything, they could hamper the long-term goals set for this season.
Brooklyn Nets vs Philadelphia 76ers
Not only was Harden missing from the lineup, but Kevin Durant and Blake Griffin were also resting as they slowly make their way back from injuries. With them, LaMarcus Aldridge was also sidelined, which only left Kyrie Irving to lead the way. Irving might have ended the night with 37 points, but it wasn't at par with the Sixers' offensive prowess.
ADVERTISEMENT
Article continues below this ad
The Brooklyn Nets started DeAndre Jordan this time, who made life tougher for Joel Embiid. But he was still able to get some easy buckets along the way. Their biggest mistake was undermining Simmons, who was brilliant on both ends of the court.
The Sixers were also missing a few players. However, the Nets did show that once all of their stars are back on the lineup, Philly will have a lot to worry about. Or do you think the result, even then, will be the same?
ADVERTISEMENT
Article continues below this ad
Read Also- 'Check Your Ego': Kevin Durant Gives the Secret Mantra Him, James Harden and Kyrie Irving Follow