NBA Insider Details The Reason Behind James Harden Being Out For an Additional Ten Days
Published 04/08/2021, 12:30 AM EDT
---
---
The Brooklyn Nets are in a bit of a predicament. With one of their superstars finally returning to play after February 13, another one of their stars has been sidelined. And the most recent update on his injury status is that he will miss at least 10 more days. James Harden had missed two games, only to return in their win against the New York Knicks.
ADVERTISEMENT
Article continues below this ad
However, he was restricted to just four minutes because of further discomfort, which was initially announced as just tightness in his hamstring. NBA Analyst Malika Andrews has a keen insight into the situation. She also gave out more information in her most recent interview on ESPN.
Why is James Harden ruled out for 10 more days?
ADVERTISEMENT
Article continues below this ad
A lot of the credit for the Brooklyn Nets' success this season belongs to Harden. In fact, after a long tussle, they have finally been able to take over the first spot in the Eastern Conference from the Philadelphia 76ers. But now that James Harden is going to be out for a while, what's the Nets' plan of action. Are they concerned about Harden's long absence?
As per Malika Andrews, " The ten-day stretch was just announced yesterday. So they're in a little bit of a wait-and-see mode. Initially, they were saying that James Harden was just experiencing some hamstring tightness. And the imaging they're conducting on his right hamstring didn't show any structural damage.
"Which is why he was cleared just based on how he was feeling, to come back and play those four minutes on Monday against the Knicks. Obviously, he wasn't feeling right. They had another MRI done, and that's what revealed the hamstring strain."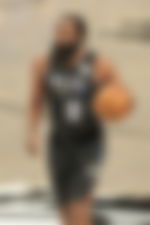 The Brooklyn Nets are trying to protect their star
Andrews explained that although the Nets might be trying to foresee what it will be 10 days from now, it won't be possible. All they do know is that they need to ensure a safe return for Harden.
"James Harden is a player who wants to be on the court, every single time. And Steve Nash said, 'Look, sometimes we need to protect this guy from himself because he is going to go out there, no matter what. So, they're going to try very hard to give James Harden as long as they can, before they bring him back," stated Malika.
ADVERTISEMENT
Article continues below this ad
"Because he has become so essential to the team. Initially, he was thought of as a luxury ad. But he has become part of the glue in this team," she concluded.
The good news is that Kevin Durant is finally back on the lineup. In fact, he even added 17 points in his first return against the Pelicans. It seems like Brooklyn doesn't have much to worry about. Kyrie Irving and KD will hold the fort well until Harden returns.
ADVERTISEMENT
Article continues below this ad
Read also- Oscar Winning Actor Explains Why James Harden Demanding a Trade to the Brooklyn Nets Was Not Disrespectful