NBA Insider Scoop B Gives Valuable Advice to Michael Jordan and Charlotte Hornets Ahead of Trade Deadline
Published 03/22/2021, 10:30 AM EDT
---
---
The Charlotte Hornets, contrary to expectations, have become one of those underdog teams to look out for. Not only do their games have fans glued to their seats, but the team has also seen much success this season. They are currently standing eighth in the league with a 20-21 record, and this may be all thanks to their trio. With Gordon Hayward, Terry Rozier, and LaMelo Ball, the Hornets look like a team ready to contend in the playoffs.
ADVERTISEMENT
Article continues below this ad
However, there are still some places the Hornets are lacking in. With their big man Cody Zeller injured, they do not have a vital center to rely on, and with the trade deadline, Scoop B seems to know exactly what the Hornets need right now.
The Charlotte Hornets have a piece missing
ADVERTISEMENT
Article continues below this ad
The Charlotte Hornets had two dark horses on their roster. While LaMelo Ball was considered overrated by most critics when he entered the league, the Hornets were ridiculed for giving Gordon Hayward a lucrative contract. However, both these players have outdone all expectations and led the Hornets to this stage.
But the Hornets aren't a hundred percent there yet. With some pieces still missing, Scoop B pitches in on what Michael Jordan should do to improve his roster.
While talking about the Hornets, Scoop stated:
"The center position is lacking in that regard. Cody Zeller fits, to me, in a San Antonio, a Utah or Indiana Pacers type of situation… I can tell you that over the last few years, Charlotte has had a lot of interest in bringing in Andre Drummond… When you look at the Hornets, they are missing a bruiser. In today's NBA, where the center position is almost a perimeter guy, they need an Al Harrington type of player. A guy that can take you off the dribble, can post a little more than Al Harrington did but can also get you outside strides, draw the double team, can pick and pop and also get shots for your best shooter."
What are the Hornets' current centers doing?
Cody Zeller has been a part of the Hornets since the beginning of his NBA career. After eight years with the Hornets, he is not turning out to be as productive as one would expect, especially offensively. Then comes Bismack Biyombo, who does not give much of the bench.
The Hornets are in a bit of a predicament at the moment. LaMelo Ball has just been ruled out for probably the remainder of the season because of a broken wrist. With even Cody Zeller injured, the Hornets need a star center to prevent them from a downfall.
ADVERTISEMENT
Article continues below this ad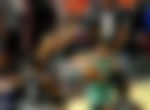 If Jordan doesn't act quick enough, it's possible that the team might miss out on entering the playoffs for the fifth year in a row. What are your thoughts on this?
Read also- 'Build a Consistent Winner': Michael Jordan Reveals Ambitious Goals for Charlotte Hornets
ADVERTISEMENT
Article continues below this ad