NBA Legend Calls Out "Most Racist" Boston Fans After Kyrie Irving's Infamous Celtics Scuffle
Published 05/09/2022, 7:30 PM EDT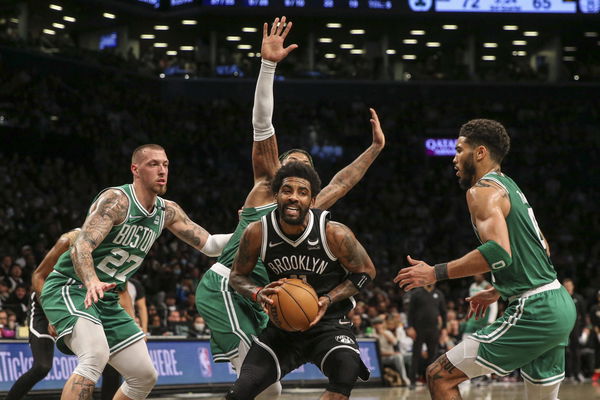 Who would've predicted the stacked Brooklyn Nets to get knocked out in Round-1 of the 2022 NBA Playoffs? Not just knocked out, but swept in a one-sided affair. Ironically the Boston Celtics, former franchise of marquee player Kyrie Irving, proved to be Brooklyn's demise. During the series, there was no shortage of banter between Irving and the Boston crowd. And now, former player Gilbert Arenas has given his take on the exchanges.
Kyrie: "I've moved on from my time in Boston."

Also Kyrie: I'm gonna flip off Celtics fans and tell them to suck my dick, because that'll definitely ensure everyone moves on.

— Scott McLaughlin (@smclaughlin9) April 17, 2022
ADVERTISEMENT
Article continues below this ad
Over the years, the Celtics fan base has been one of the most passionate and energetic crowds out there. At the same time, it can be quite the hostile atmosphere for the opposition. As a result, Kyrie Irving's departure from a franchise that treasured him was always going to have its repercussions.
Averaging 24.1 points in his two seasons with the men in green, the star guard then chose to move to Brooklyn, where he teamed up with 2-time NBA champion Kevin Durant. Since then, the Kyrie-Boston bond has been more bitter than sweet.
Gilbert Arenas provides bold take on Kyrie Irving-Boston Celtics drama
A league veteran in his own right, 3-time All-Star Gilbert Arenas is now known for his honest NBA takes. While he has played for the likes of the Warriors and Wizards, Arenas is an avid analyst off the court post retirement.
In a recent interview, he addressed the infamous incident wherein Kyrie said "suck my d**k" to the Boston crowd. While we can say that Boston's locals are merely retaliating at a heartbreaking exit, Irving was also respectful before ultimately reaching a boiling point.
ADVERTISEMENT
Article continues below this ad
Interestingly, Arenas was leaning on the side of Kyrie during the interview. He then went on to humorously explain the nature of crowd that Jayson Tatum and co. are playing for. "It's Boston, it's Boston fans," he joked with a smile on his face.
"Yeah the most racist. So that's where, he played there. It's like a bad breakup. Let it all go. Because you give the crowd too much power when you fine him for reacting. Because now it gets worse; the fans get worse, because they know he can't say anything back."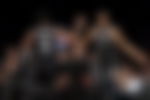 After an incredible couple of years together, things really went downhill during the 2022 NBA Playoffs. Do you agree with Arenas' defense of Kyrie? Let us know in the comments.
ADVERTISEMENT
Article continues below this ad
WATCH THIS STORY: Does LeBron James Have a No Trade Clause?