NBA Legend Claims He Beat Michael Jordan and Larry Bird With the US Dream Team While He Was in College: "Man You Weren't Talking Trash When We Were Good"
Published 06/11/2022, 11:00 AM EDT
By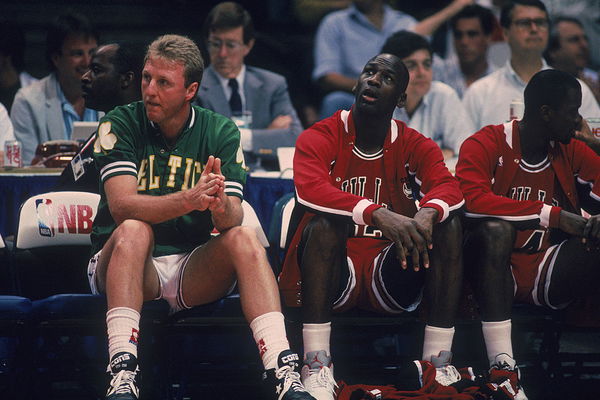 Hall of Famer Grant Hill has certainly become a household name both on and off the court in the NBA. His impeccable basketball career ranges from winning two NCAA championships with Duke and giving the league 7 All-star appearances and defeating Michael Jordan-led Dream Team. The now part-owner of Atlanta hawks has set out to publish a collection of his memoirs in an autobiography titled 'Game.'
Grant recently went on the Rich Eisen Show, where he shared some anecdotes that would be part of his autobiography. Hill told Rich Eisen how close he came to signing with Michigan out of high school before opting for Duke and talked about his NBA Years.
ADVERTISEMENT
Article continues below this ad
READ MORE: Michael Jordan 2022: Bio, Net Worth and Endorsements
He also talked about his time as a franchise executive. Hill went on to share the thought and the motivation for his new autobiography, 'Game'. He took Eisen through some of his memories of the NBA legend Michael Jordan.
Defeating the 'Dream Team'
Hill said that he enjoyed exchanging trash talk with Jordan and recalls his first time meeting 'His Airness' Michael Jordan. Grant Hill got a chance to scrimmage Michael and the Olympic' Dream Team' as a college player and was matched up against Jordan. He shared a fond memory of trying to defend Jordan and beating the Olympic champions in those scrimmages.
Grant says, "I've had a lot of interactions, obviously even before I got to the NBA. I think really my first, you know, time really meeting Michael Jordan was when he was playing on the dream team, and I was on the college select team, and the first day we played. I was matched up against him, and you know he was calling me 'Dukie'."
"I'm trying to deny him the ball, and he's like, I can get the ball whenever I want. So that was a memorable experience and we beat'em. We the college players beat the Olympic team in the first day of scrimmages," he added.
Matching up and trash-talking Michael Jordan
Grant added fuel to the rivalry between NCAA giants Duke and North Carolina as he spoke about trash-talking Jordan before the NBA 75 in Cleveland as Duke enjoyed a blowout win against championship competitors.
He shared one of the exchanges he had with Jordan, where he said, "Man, you weren't talking trash when we were good." Grant Hill was not one to back off, even if it was MJ talking trash. So he wittily replied, "When you guys were good, we were good too."
WATCH THIS STORY: Top moments from Duke vs UNC from NCAA basketball semifinal
ADVERTISEMENT
Article continues below this ad
Interestingly, Jordan and Hill were drafted at the number 3 spot. This was considered one of the biggest draft heists of all time. Hill and Jordan shared the stage in the infamous Chicago Bulls and Detroit Pistons rivalry years. But according to Hill, they both shared a lot of mutual respect for each other.
ADVERTISEMENT
Article continues below this ad
Hill, the 1994 ACC Player of the Year at Duke, won two NCAA championships with the Blue Devils. During his time in college, and was twice an All-American before turning pro. Hill was picked 3rd overall in his draft class.
He has had one of the most impactful careers in the NBA. In his 19 years as a pro athlete, he has suited up for teams like Detroit Pistons, Orlando Magic, Phoenix Suns, and Los Angeles Clippers. His autobiography would remind the generations to come of his greatness.
Edited By: Arunaditya Aima