NBA Legend Shaquille O'Neal Describes What James Harden Needs to Do to Be Successful
Published 01/02/2021, 2:33 PM EST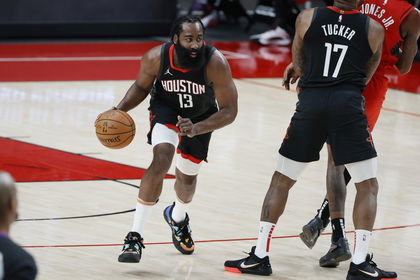 ---
---
James Harden has been in the news for quite a while now. Although he had demanded a trade from the Houston Rockets before the start of the off-season, he hasn't seen any significant progress as far as his relocation is concerned.
ADVERTISEMENT
Article continues below this ad
Harden sees himself in a precarious situation. With his prime slipping out of his hand, the Beard knows that he has to win now.  Lakers' legend Shaquille O'Neal, in a recent appearance on the All Things Covered podcast, opened up about what Harden needs to do in order to succeed.
He said, "You could be the best player in the world, but you still got to sacrifice." He added, "Lot of people don't like the dribble, dribble, dribble shoot.
ADVERTISEMENT
Article continues below this ad
"You look at Golden State when there was only time it was pass-pass-pass the best shot. Unless he scores 50 or 60 every night, which is really hard, it's gonna be hard trying to do it all by himself. He needs to utilize his teammates."
He added, "I just think he was to learn to sacrifice more. Like when you got the ability to get 40, it's cool. I'm trying to get enough points for us to win, enough points pat to get his shot and for you to get your shot, everybody to be happy, everybody playing on a high level.
"If you got guys not touching the ball and not being in rhythm when it comes to crunch time, they ain't gonna never be ready."
Harden has been clinical in the first three games, averaging 37 points, 11 assists and 5.3 rebounds per game. Although he did not look at the best shape possible, he has answered all his doubters in some fashion with such a start.
Can James Harden & the Rockets become a top team in Western Conference?
The Rockets were off to a rocky start to their regular season as they lost 2 games in a row. They barely had 9 players on their side and thus lacked support for Harden.
The biggest positive from the games was that their free signing, Chris Wood, emerged as a solid player and could prove to be a much-needed boost in the forward position, and the other was their star still in elite scoring form.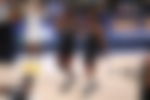 They finally got their first win of the regular season and saw the return of new signings John Wall and DeMarcus Cousins. Both Wall and Cousins looked impressive in their debuts and the organization will hope that they can co-exist with Harden.
ADVERTISEMENT
Article continues below this ad
Given how reluctant the Rockets have been in trading him, Harden should look to make the most of this Rockets outfit. The recent additions of Wall, Cousins, and Wood can be a big help to 'The Beard'.
The team is building on the existing chemistry and will hope that they can integrate the newer additions to the squad.
ADVERTISEMENT
Article continues below this ad
This Rockets team might be the last resort for Harden to be the main man and lead a team to an NBA championship. Given how uncertain the season has been, the Rockets can pull off a surprise or two in the Western Conference.