NBA Legend Shaquille O'Neal Disagrees with Former Teammate Dwyane Wade Over Importance of Statistics
Published 03/03/2021, 3:00 PM EST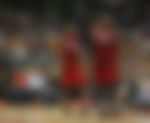 ---
---
One of the biggest topics of discussion in the NBA world today is statistics. There are some who believe that statistics are very important to reflect the efficiency of each team. On the other hand, there are those who think that numbers don't reflect the true nature of the game. Shaquille O'Neal and Dwyane Wade don't see eye to eye about statistics.
ADVERTISEMENT
Article continues below this ad
Shaq and D-Wade disagree on stats
Former NBA champions Dwyane Wade and Shaquille O'Neal discussed the importance of numbers. Wade noted that it could be an important reflection how players are performing during the game and through the season. However, Shaq chimed in and noted "When you get older, there's only one individual stat – you want to win championships".
ADVERTISEMENT
Article continues below this ad
"Imma have to disagree with @DwyaneWade"… "Respectfully." 😂😭 pic.twitter.com/dfoCIU44FR

— NBA on TNT (@NBAonTNT) March 3, 2021
Shaq and D-Wade went on to banter back and forth with each other. It appears as though despite their disagreement, their friendship is still intact. The two players played together during their time with the Miami Heat. Both players brought out the best in each other as they attained great success with the franchise.
Shaquille O'Neal teamed up with Dwyane Wade in 2004. Shaq was just coming from the Los Angeles Lakers after he and Kobe Bryant had a massive falling out with each other. The Lakers traded Shaq to the Heat in order to resolve the problems they were having with the two of them. This move brought Wade an elite teammate just one year after his spectacular rookie season.
Shaquille O'Neal and Dwyane Wade found success together
Wade and Shaq had instant chemistry from the get-go. Due to their performance and chemistry, the duo was able to lead the Miami Heat to the best record in the Eastern Conference. The Miami Heat reached the conference finals but lost to defending champions Detroit Pistons.
ADVERTISEMENT
Article continues below this ad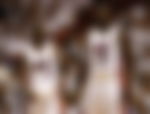 The following season, Shaq and D-Wade repeated their good form. They secured the second seed in the Eastern Conference and were able to defeat the Pistons after losing the prior year in They were able to reach the NBA Finals and defeated the Dallas Mavericks to win the Heat their first NBA championship. For his efforts, Dwyane Wade was named the Finals MVP.
ADVERTISEMENT
Article continues below this ad
Shaq and D-Wade solidified themselves as one of the greatest duos in the history of the NBA.