NBA Rumors: Former Raptors' Dynamic Duo DeMar DeRozan and Kyle Lowry Interested To Join Lakers in Upcoming Off-Season
Published 07/23/2021, 12:34 PM EDT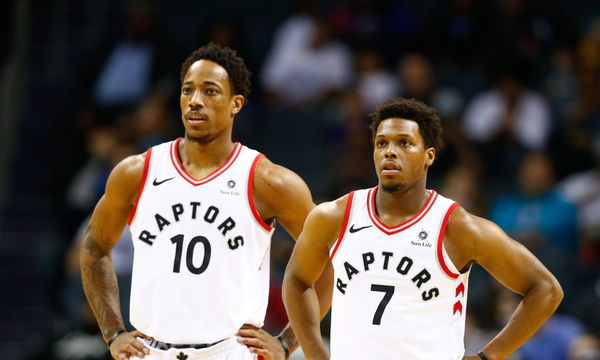 ---
---
The Lakers might have been one of the favorites during the start of the 2020-21 season but it is safe to say their season didn't pan out the way they wanted. With injuries and a questionable roster construction, the Purple & Gold struggled in the post-season and crashed out in the very first round.
ADVERTISEMENT
Article continues below this ad
Given how broken the team looked against the Suns, the Lakers surely have a lot of issues of address. Be it the vacant point guard spot or the lack of good perimeter players, the Purple and Gold are set for a busy off-season.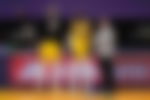 ADVERTISEMENT
Article continues below this ad
Former Raptors Duo interested in a move to Lakers
Given how disappointing the supporting cast around LeBron James and Anthony Davis performed this season, change is imminent. While getting a big name star like Damian Lillard would do wonders, the Lakers do not have the assets to pull off a big trade.
The free agent market might be the way forward for the Purple and Gold. Given that they have the star power of LBJ and AD, the Lakers might be in for some good news ahead of the off-season. According to NBA insider Brad Turner, former Raptors' duo of Kyle Lowry and DeMar DeRozan are interested in joining the Lakers.
This is big news for Bron and Co as Lowry and DeRozan certainly cover some key issues for the Lakers. The 35-year-old Lowry is an incredible playmaker and also a fantastic shooter from the three point line.
ADVERTISEMENT
Article continues below this ad
Averaging 17.2 points, 7.3 assists and 5.4 rebounds per game, Lowry is the perfect fit in the Lakers' point guard role. DeRozan on the other hand will be a tricky addition though. The Spurs' guard has transformed into a playmaker and has seen an uptick in assists. But the biggest cause of concern will be his woeful shooting.
The duo of Lowry and DeRozan certainly provide a different dynamic to the Lakers. Given the scoring they bring, the Purple & Gold will have a much needed increase in their offensive rating.
ADVERTISEMENT
Article continues below this ad
But signing the two might be tricky. The Lakers' have a whooping $102 million worth of salary allotted to four players. The Purple & Gold might have to trade some players in order to accommodate the Raptors' duo. Can LeBron and Co. add DeRozan and Lowry this off-season?