NBA Scout Explains a Key Reason Behind the Phoenix Suns' Success in the 2020-21 Season
Published 07/12/2021, 8:33 AM EDT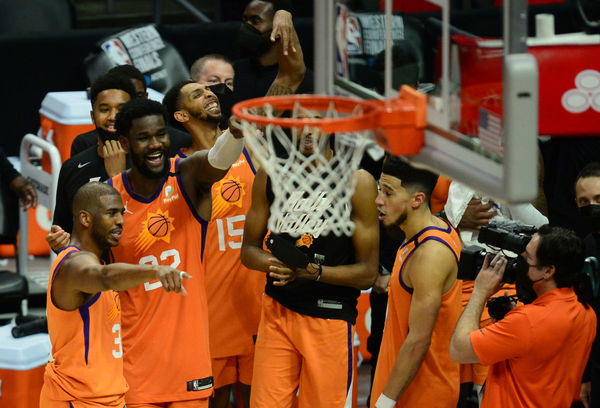 ---
---
As far as David vs Goliath battles go, the Phoenix Suns vs Milwaukee Bucks NBA finals is living up to its worth. Giannis Antetokounmpo and Devin Booker are spearheading their respective franchises towards history, and only one can come out on top.
ADVERTISEMENT
Article continues below this ad
Has the sun finally risen for Phoenix?
The Phoenix Suns have always found themselves in the middle of the pack. By hook or by crook, the elusive NBA crown has evaded them over the years. The Suns have the 7th highest win percentage of all-time, but the squad has never left an imprint on the sport's legacy. Since the team's inception over 50 years ago, it has failed to capture a single NBA trophy.
ADVERTISEMENT
Article continues below this ad
This season, Arizona's purple brigade has accomplished a ginormous turnaround. The squad underwent a transition, and the owner-manager duo of Robert Sarver and James Jones created a raucous awakening in the league with their all-out quests for players. Now, any side that comes up against the Suns would be wary and petrified, and with good reason. With star players like Devin Booker, Chris Paul, Jae Crowder, DeAndre Ayton all finding their groove, the Phoenix Suns throttled the core of the NBA with their dominance.
NBA scout impressed with the hierarchy at Phoenix Suns
ADVERTISEMENT
Article continues below this ad
The Phoenix Suns' ability to put the views of each senior player to the forefront and execute the plan is second to none. Regarding the same, an insider Eastern Conference scout of the NBA has laid out what he believes is the success mantra of the Suns, starting with leader Chris Paul.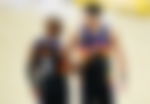 "You can win with a lot of questions about your team, but if leadership is one of them, you're done. And it's not really about whether you have good leaders or not, but do you have the right ones? And are those who need to follow, willing to follow? Phoenix has the perfect blend of leaders. Chris Paul is the leader, Devin and Jae are next, and the rest of the team falls in line. Leadership for most teams is a little messier than that."
ADVERTISEMENT
Article continues below this ad
The NBA insider believed that the Phoenix Suns used their resources well, and managed to gel together in the quickest possible time. However, the general norm is still that it takes more than just 1-2 seasons for sides to be able to revamp completely. Will the Suns successfully seal the deal for their first title? And can this side keep it going in the long run?