NBA Stars Name Stephen Curry, Damian Lillard, and Russell Westbrook as Players You Shouldn't Trash Talk
Published 04/30/2021, 9:30 AM EDT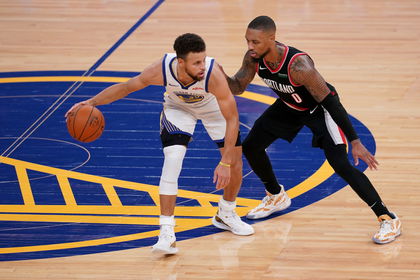 ---
---
Trash talking is a huge part of the NBA. Fans enjoy watching players talk smack to each other as much as they enjoy watching great plays and baskets. For decades, the NBA has boasted some of the best trash talkers from all sports. Whether it be Larry Bird, Michael Jordan, or Kobe Bryant, trash talk has stayed in the NBA for a long time. But who isn't to be talked trash to? Two NBA stars say Stephen Curry is on the list.
ADVERTISEMENT
Article continues below this ad
Robinson and Ingles on trash talk
NBA players Duncan Robinson and Joe Ingles had a conversation about trash-talking in the NBA. Ingles noted that Russell Westbrook is not a player that someone should try to trash talk to. Westbrook can turn the switch on at any moment, and it is best to not give him any motivation. Furthermore, James Johnson is also a dangerous person to talk smack to.
ADVERTISEMENT
Article continues below this ad
Ingles said, "I think Russ is one of those guys. You go at him the wrong way or say the wrong thing or get into it with him on a dead ball. It takes him like one second and he can go for 20-20-20 like we've seen that before… I ain't messing with James Johnson, like no way."
Duncan Robinson also noted that Jimmy Butler is another player that doesn't take kindly to trash talking. He mentioned some issues that Butler and Ingles have had in the past but didn't elaborate further on it.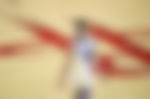 Robinson said, "I think Jimmy (Butler) is up there. I actually remember a story… might have been last year, though. You guys got into a little bit of a tussle. I remember a conversation between the two of you, and you were actually… let's just not go there."
Stephen Curry and Damian Lillard are too dangerous
Finally, Ingles noted that players like Damian Lillard and Stephen Curry are not the people one should challenge with words. Both are silent with their words but respond to trash-talking with their spectacular play. Both Lillard and Curry use it as motivation to get their teams the win and make spectacular plays. Curry stays silent, which is why he is known as the baby-faced assassin.
ADVERTISEMENT
Article continues below this ad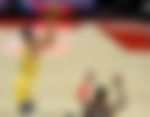 Ingles said, "I think Dame would go into that category too. Especially because he's literally dribbling into the half-court and shooting basically a layup for him. I'd have to kick it to make it that distance from the half-court. There are a few guys. Even Steph…he doesn't really talk out there. But you can see, he gets that look in his eye like 'all right, you want to play physical?'…"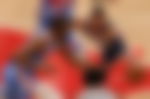 ADVERTISEMENT
Article continues below this ad
Who is the player that is more dangerous after trash-talking according to you?